Last week was a rough one in the Davis house. We got hit with a nasty stomach bug that showed no mercy. Don't worry, I'll spare you the details. Just take my word for it, yuck!
On day #3 of the flu from hell I happened to catch this super sweet moment of the boys while we were watching
Up
.
The second the camera clicked and the flash went off Jackson looked at me and started saying "Cheeeeeese!" Well of course that prompted me to take another while he continued, quite proudly, to say "Cheeeese!".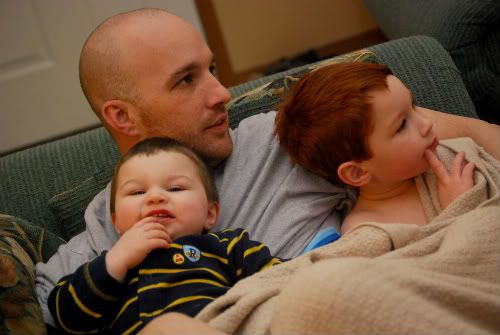 It didn't take long for the other two to join in and the loud, yet harmonious "Cheeeeeese!" that erupted from our living room couch most likely could be heard across the street.
Don't worry, we are still working on the DVD. With Scrap-a-palooza this weekend we had to take a minor break and focus on preparing for our mega crop. We had high hopes of finishing it before then but we quickly learned that it is taking more time that we had originally thought. We also found out that we have to re-shoot one of the segments but we plan to do that as soon as this weekend passes. Believe me, with each layout that is finished I get more and more excited! :)