It is officially sketches week! Since I've got
seven
layouts for this week, two of the days will have two layouts. Today is one of those days!
Last month I used a sketch that had zero 4 x 6 photos so I wanted to use a sketch this month that was mostly 4 x 6 photos.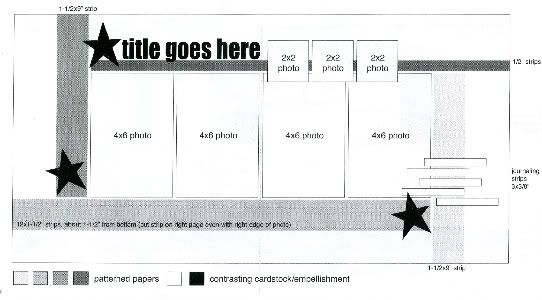 One thing I love about this sketch is that with the paper design around the photos instead of behind it you can really play around with different picture sizes without really altering too much of the design. It is definitely one you can easily use over and over.
Layout #1 - Diggin' in the Rocks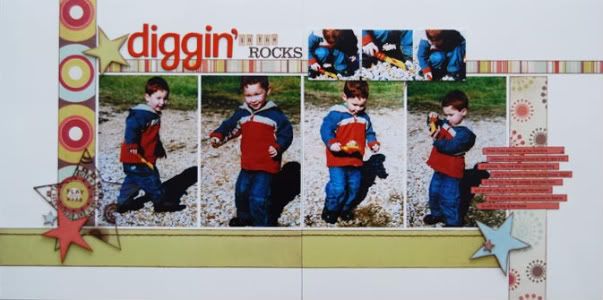 Supply list
-

Cardstock:

Bazzill Basics Paper;

Patterned paper:

Scrap Within Reach;

Chipboard stars:

Fancy Pants Designs and Scenic Route;

Chipboard alphabet:

Pink Paislee;

Alphabet stickers:

My Little Shoebox (in the) and Making Memories (rocks);

Paint:

Ranger;

Embroidery floss:

DMC
This layout is an exact copy of the sketch. The only thing extra I added was a stitched line across the bottom strip.
On the larger star in the bottom left corner I used an acrylic star that I stamped with different circles. Because I was stamping onto acrylic I used Staz On ink. None of the stamps are from a coordinating set, I just grabbed a few that would all look good together.
A little trick I used for getting the stamp placement on the star
- I set the star down on a scrap piece of paper. Then I arranged the stamps where I wanted them to be on the star, with the stamp side down. Then I pressed the acrylic block down on the back of the stamps (the back side, the side that attaches to the acrylic block, was facing up). The stamps were then positioned exactly where I needed them to be on the acrylic block. All I had to do next was ink and stamp. This is a lot easier than trying to guess where you think the stamps will go on the star and a lot faster than stamping them one by one.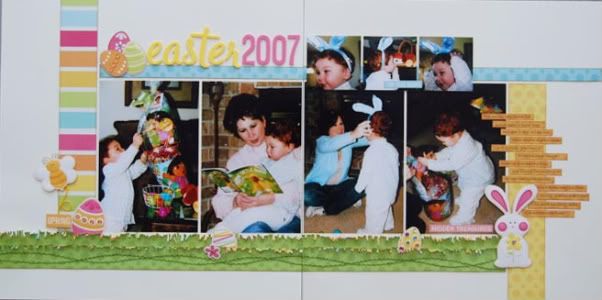 Supply list
-

Cardstock:

Bazzill Basics Paper;

Patterned paper:

We R Memory Keepers;

Stickers:

We R Memory Keepers;

Foam alphabet:

American Crafts;

Jewels:

KaiserCraft;

Memory Thread:

DMC;

Embroidery floss:

DMC
I would consider this layout an exact copy with a few minor variations mostly to fit the theme of the layout.
• Variation #1
- I used 2" journaling strips instead of the suggested 3" strips. The reason is that I had a fairly large embellishment (the bunny) below the strips and I had a lot more journaling for this page. By using smaller strips I could wrap my journaling around the bunny and add more strips. If I would have used 3" strips and tried to wrap around the bunny they would have been too long. This is one thing I love about using journaling strips. You can wrap them around things to fit in a specific area.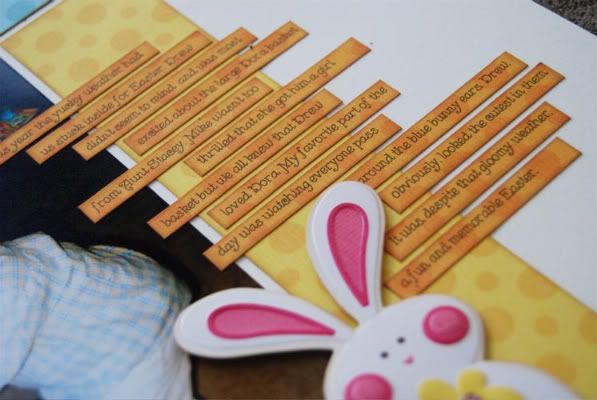 • Variation #2
- Instead of using stars I used Easter eggs, the large bunny, and a butterfly. To add a little movement and a fun touch to the butterfly I added a line with a loop out of Memory Thread from DMC. This is one of my favorite new products. I love making my own little embellishments and usually use craft wire to add some details. This stuff is just like craft wire except it has a colored thread coating around it. It's like a whole new world of play for me!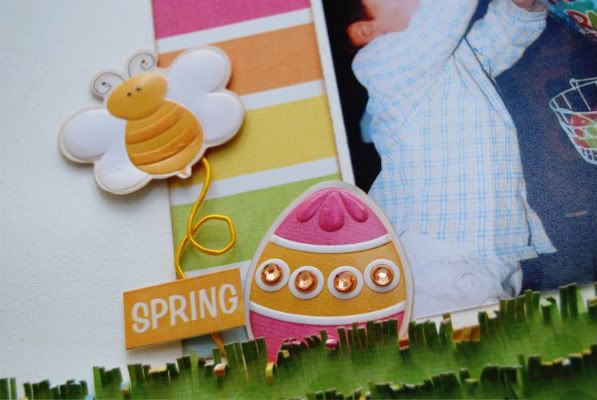 • Variation #3
- To add to the Easter theme, instead of using a plain 1 1/2" strip across the bottom I used one 1 1/2" strip and one 1" strip with tiny strips cut across the top and layered to mimic grass.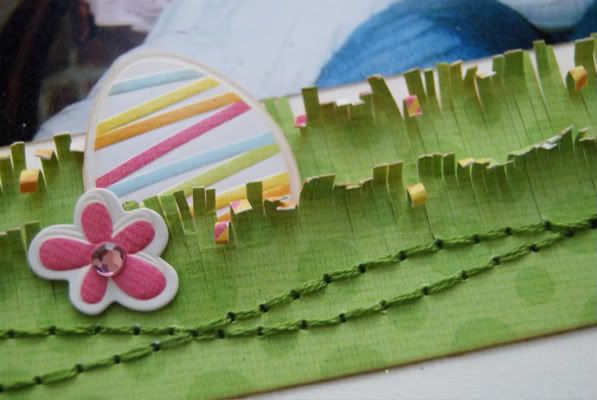 After I cut the strips with scissors I roughed them up by running my finger across them and then curled some of them down. After I had them added to the page I added hand stitching in a wavy pattern across the bottom. The last thing I added were little Easter egg stickers tucked between the two strips of grass.
Of course I'll be doing a giveaway for sketches week! I'll be posting everyday, Monday - Friday, with a layout (or two) based off the same sketch. All week you'll have a chance to leave a comment and next Monday I'll post the winner who gets a copy of Sketches for Scrapbooking (volume choice is all yours.) You can leave more than one comment through the week to be eligible but not on the same day. :)