Here we go with day #2! Both of the layouts I'm sharing today show how to add a 5 x 7 photo to the sketch.
The sketch that I'm using, from
Sketches for Scrapbooking, Volume 6
, as a starting point for each of my layouts this week.
Layout #3 - "Taking the Wheel"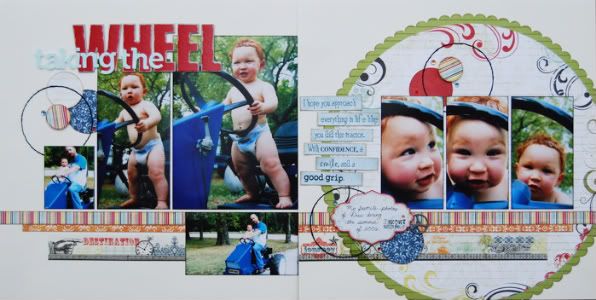 Supply List - Cardstock: Bazzill; Patterned paper, alphabets, die cuts, and sticker: Pink Paislee; Metal accent: Tim Holtz; Jewels: KaiserCraft
These just might be my most favorite pictures of Drew. Ever. Those chubby legs, the cute smile and expressions on his face, his goofy personality captured, I just love these pictures. And, believe it or not, this is not the first time I have made a layout with these pictures. One of my first layouts was with these pictures and it drives me crazy. I love the pictures and the layout just didn't seem to do them justice. I have no problems with going back and re-scrapping pictures I've done before. I didn't want to look at a layout with these adorable pictures and cringe, I wanted to look at the layout with a smile. My opinion, if it bugs you, redo it!
• Variation #1
- I really wanted my favorite photo of the group to stand out so to do this I printed it as a 5 x 7. The larger size makes it more noticeable and it easily fit in with the sketch. Because I had 1" more width that the suggested 4 x 6, I cut 1" off the width of the second suggested 4 x 6 on the left. This way I still have the same 8" width with my photos and I don't have the smaller photo on the far left too close to the edge of the layout.
• Variation #2
- I used circles punched from patterned paper in place of the suggested stars on the sketch. I also added some jewels and a stitched circle. One group of the circles (the top right) aren't in the exact placement as suggested on the sketch but as I always say, I look at the sketch as just a suggestion. For this particular layout the circles below the journaling and above the journaling ended up right above and below each other and I wasn't happy with the way it looked. I thought it looked better to move the top group over to the right. To me it looked like if I would have left the top group right above the journaling strips it was kind of leaving the pictures on the right page out. Sometimes things we add to our layouts can mean making some adjustments somewhere else. It's all about what looks right to you!
• Variation #3
- One thing that can be kind of tricky with this sketch is the journaling. I think that it is important to fill that space provided for the journaling. Not doing so can leave some weird gaps and holes on the page. Let's say you don't have as much to journal about and don't know how to fill that space. My solution was to use a large font size and cut my journaling strips a little larger than usual. What space I didn't fill in at the bottom, I added some circles to.
• Variation #3
- I used a journaling die cut in place of the word strips on the sketch. It's still the same concept, words in that place, it's just a different look.
• Variation #4
- Instead of using a patterned paper for the bottom strip I used a clear border sticker. It was the perfect width and added some fun designs to the page. Substituting strips with border stickers, border punched paper, or anything that is in a line is a great way to change the look of the sketch.
I'm usually not a one-page scrapbooker but sometimes, like the layout below, a one-page is the best option. Plus we've had a lot of people ask if our sketches were usable for one-page layouts. The sketch is perfect for that purpose!
Layout #4 - "Now You Look at the Camera?"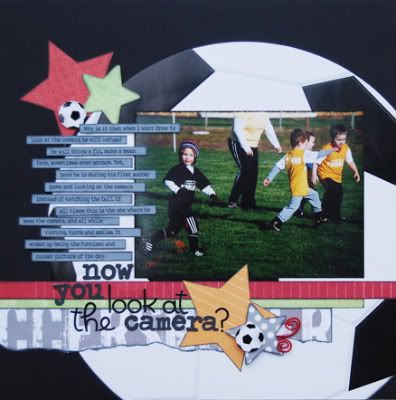 Supply List -
Cardstock:
Bazzill;
Patterned paper:
Reminisce, Creative Imaginations, October Afternoon, and My Mind's Eye;
Alphabet:
Prima and Doodlebug

• Variation #1
- This picture makes me laugh every time I see it. In a massive sea of soccer pictures I found this one of Drew running and smiling at the camera. Since that one picture was all I needed to tell the story I went with one 5 x 7 in place of the three 2 1/2 x 4 1/2 photos on the sketch. It's a smaller width but I didn't worry about that part.
Keep in mind that this would also work on the two-page version of the sketch. A 5 x 7 would look great on the right page of a two-page layout.

• Variation #2 - Because the width of the photo was smaller I made my journaling strips a little longer to take up some of the space. I like to try and have the same margins on the left and right of the page. Obviously that isn't a "have to" kind of rule but it does help to create a nice, balanced look to the layout. Making the journaling strips a little longer made it possible for me to have those equal margins.

• Variation #3 - Since this side of the sketch didn't have the title I had to find a place for it. I ended up using the word strips at the bottom as my title. There were already large words in that area so why not turn it into the title? A title would have also worked great along the top of the photo.

• Variation #4 - I used a torn strip of patterned paper in place of the bottom straight edge strip of patterned paper. It's a very simple variation but still something you can do to change the look of a sketch.

Yesterday's sketch book winner is...

Erica Hettwer said...
Love these layouts! Quick question, how do you test out your titles?

and a little surprise giveaway...The car, road sign and arrow punch out sheet, some of the patterned papers, and Doodlebug alphabet stickers that I used on my "Reckless Driver" layout from yesterday goes to...

Micki said...
Why didn't I find these while I lived in KC and could visit the store in Springfield often? :) I'll be ordering the older books asap; need some much-needed guidance to make up for the lack of scrapping the last 3+ years. Saw the links on 2p and these are worthy of all the buzz - great style!!

Email me at alidavis1919@hotmail.com with your address. Erica, you'll need to let me know which volume (1-6) you would like. Keep in mind that Volume 6 won't be in our hands until around the end of June. :)

Day #2 means it's a new day to win a copy of Sketches for Scrapbooking (volume choice is all yours!)