What a fun, exciting, and exhausting day Saturday was. This was our best 'Palooza ever! It ended up being a sold out event with 250 scrapbookers attending. And I have to say, the ones that attended had to be one of the best groups we've had. I'm still shocked that when a brief storm hit and our power went out for a few minutes not one single person complained. In the dark you could hear everyone still scrapbooking.
My demos went great...
although being on the stage was a new location for doing them. They had these lights that they would turn on when it was demo time that were like instant saunas. I was cooking under those things! I think I might have actually rushed through them a little faster than usual for fear that I was going to melt in front of everyone.
I explained in three different demos how to use Memory Thread, Shimmerz, Perfect Pearls, and sketches. My 'Palooza sketch demo is actually where Sketch Week came from. It's like Sketch Week live.
Our onsite store was the biggest we've ever had.
I think Mom said we had almost 60 new paper collections.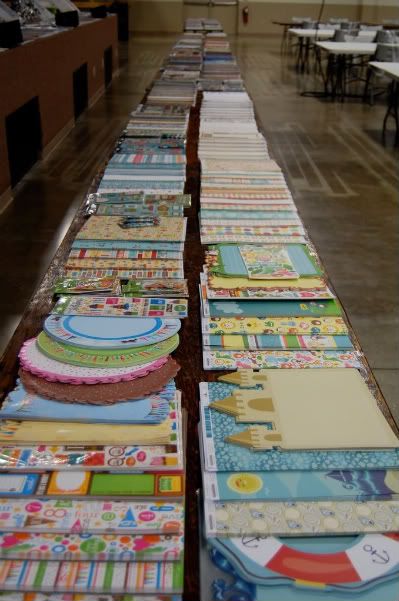 That's a lot of paper!
Nikki Sivils and her local design team were in charge of the free mini-classes all day.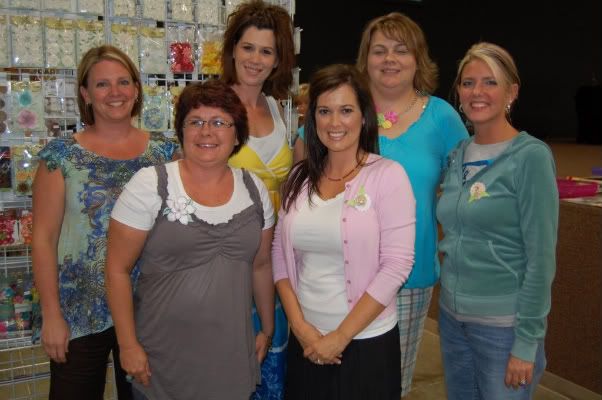 They made cards, treat bags, flowers...such cute stuff. Everyone really loved them.
If you haven't been to a 'Palooza yet I would recommend marking your calendars for the next one on Saturday, September 25.
Random news:
• Be sure to check back on Wednesday. I'm adding a new monthly feature on my blog. :)
• Sketch Week is almost here! I'm working this week on getting the layouts done and the sketch is one of my absolute favorites. I'm so excited for you all to see it.
• CHA is only a few weeks away! We've got lots to do to get ready but are so excited to show everyone our new look (inside and out)!
Happy Monday! :)