While the boys were enjoying a nice warm evening splashin' around in the pool I kicked back, relaxed, and enjoyed my fresh, hot off the press
Sketches for Scrapbooking, Volume 6.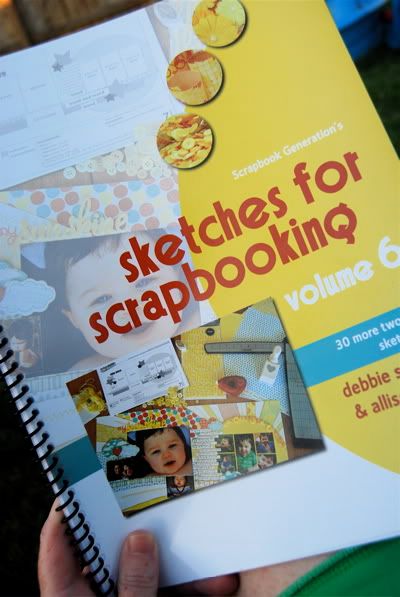 Walking into the printers to see a table bigger than my kitchen covered in our books was an unbelievable experience. I was kicking myself for not having my camera with me. Stacey and I were giddy with excitement on the way back to the store. What was probably the most cruel thing we've done to Mom ever was trying to trick her into thinking they were messed up. Stacey was doing a pretty good job of keeping a straight face but I couldn't wipe the mile wide grin off my face. Mom fell for it for about ten seconds.
One thing you might notice in the picture is the new binding. Despite our printer's best efforts of trying to talk us out of it we weren't going to budge on having a spiral/comb type of binding. In my opinion scrapbook idea books and cookbooks should always have a spiral type of binding. If it's something I need to keep looking back to while I'm scrapbooking I want that sucker to lay flat! We did update it a little and got rid of the bulky comb binding and went with a smaller spiral binding. I for one love it! The pages turn so smoothly.
So tomorrow, (
Thursday, July 1
), is the big day that these babies go on the market.
(The price for the book AND the shipping is $15.99.)
To celebrate the official beginning of Scrapbook Generation Publishing I'm giving away a copy of Sketches for Scrapbooking, Volume 6 to one of my blog readers. Leave a comment before Thursday is over (12:00 a.m.) and I'll announce the winner on Friday. :)