A new month, a new sketch, five new layouts, and a new sponsor! It's bound to be a fun Sketch Week!
The sketch that I'm using, from our
DVD - Stretch Your Scrapbooking
, as a starting point for all five layouts this week.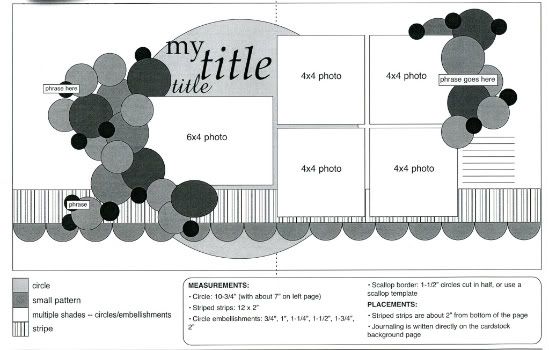 This is one of my all time favorite sketches! At first glance it might be a little intimidating with all those circles but each day I'll show you how to adapt this one to your own style or theme. I'll try to cover everything, simple to extreme, and show you that this sketch can work for anyone. Most of the focus will be on those circles since they are one of the big eye catchers of the layout, but I think you'll also be surprised at how they don't overshadow the photos.
When we started doing sneak peeks of the DVD layouts I showed you this one that the sketch is based off of.
The circles add a fun touch but with the pictures being grouped in the middle they still take the stage as the center focus of the layout.
Layout #1 - "More Than Sisters"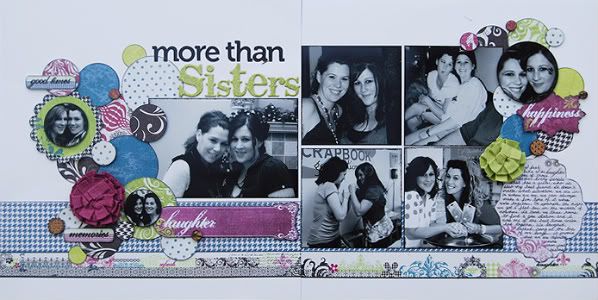 Supply list - Cardstock: Bazzill; Patterned paper, die cuts, journaling block, border strips, folded fabric strips, alphabets and cork circles: Pink Paislee.
Variation #1
- I love the big background circle on the sketch but I wanted to show on one of the layouts this week that the layout can look great without it. Not everyone has a circle cutter that cuts that big or a die cut patterned paper that matches the papers or pictures you are using. You can create a great looking layout without that big element on the page. Looking at a layout in layers, a lot of times the elements that are on the very first layer (the first applied to the cardstock base), can be removed and you still end up with a well designed layout.
Variation #2
- On the sketch there is a scallop border across the bottom of the striped strip. Anytime I see a decorative piece like that on a sketch I try to find a different decorative border each time I use that sketch. This is such an easy way to get a lot of milage out of one sketch. On this layout I used some Pink Paislee clear border stickers across the bottom. It's amazing how little things like that can change so much.
Variation #3
- One thing I love about the circles on the sketch is that there are so many possibilities. On this layout I did a mix of patterned paper circles, die cuts, cork circles, and pictures.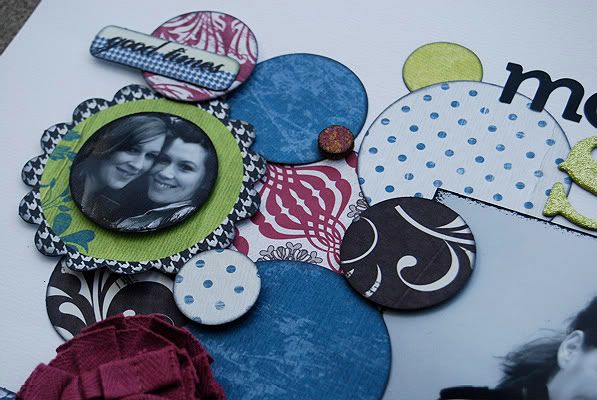 I know, trend-wise, that the days of cutting our pictures into shapes are long gone but I never been one to follow trends. I think cutting your pictures into shapes is just fine and there are ways to do it that can bring it up to date a little. I wanted to get a few more pictures on this layout so I took a circle punch, punched the pictures, and then added them among the circles. Adding the picture circles into the circle design of the layout makes sense and keeps the look up to date.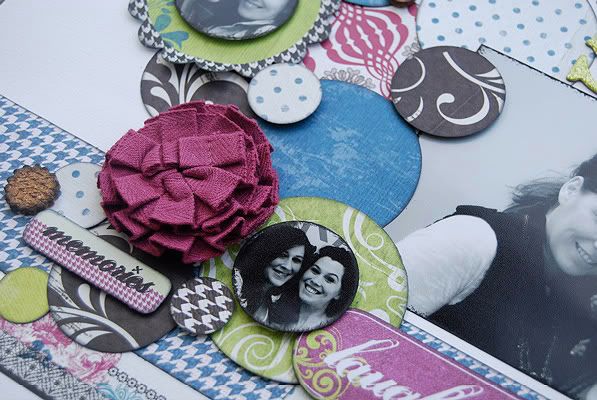 I also made flowers with the Pink Paislee folded fabric strips. To do this I started at one end of the strip, then layered the strip in a circular motion until I came to the end of the fabric strip, and adhered it in a few random places. It was so easy to make!
Variation #4
- On the sketch is shows the journaling on the background cardstock on the right page. I needed more space than what I had left after adding the circles so I used a journaling piece that is adhered over the strips going across the page. The journaling area is always a place that you can add more or use a little of to adapt to fit your layout.
So are you ready to find out who our July sponsor is? Some of you guessed right when you said, one of my absolute favorites,
Pink Paislee!
They have put together this awesome giveaway for one lucky person this week.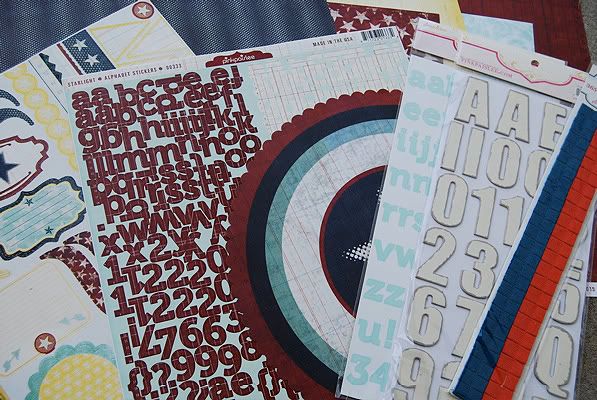 Not only did I use Pink Paislee today but I've got another layout later this week using their products.
There will be two different giveaways this week, the Pink Paislee giveaway and then the
Sketches for Scrapbooking
giveaway. I'll be posting everyday, Monday - Friday. All week you'll have a chance to leave a comment and next Monday I'll post the winners. You can leave more than one comment through the week to be eligible (five days = five chances to win!) but not on the same day.