Today's layout, I think, falls somewhere in between my type of simple and extreme. That's sounds kind of crazy since simple and extreme aren't words that typically go together. Maybe you'll see what I'm talking about and then it won't sound so insane.
The sketch that I'm using, from our
DVD - Stretch Your Scrapbooking
, as a starting point for all five layouts this week.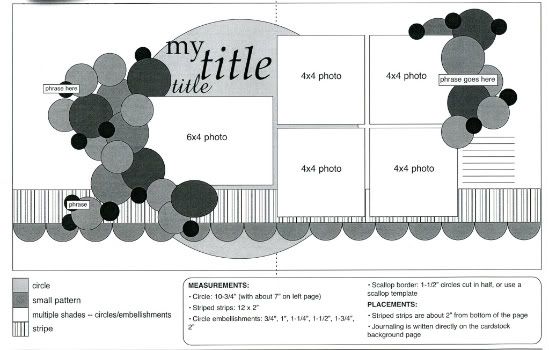 Layout #3 - "The Word Nerd"
(I think I proved my inner nerd with that silly title!)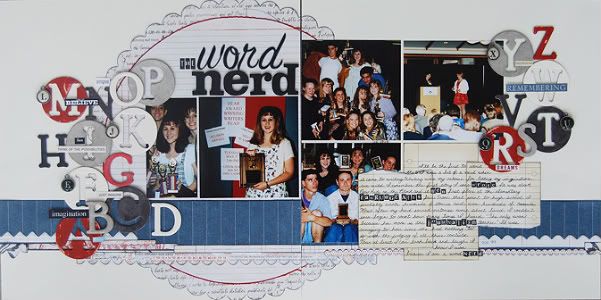 Supply list - Cardstock: Bazzill, Patterned paper: BasicGrey and Graphic 45; Typewriter key alphabet: Tim Holtz, Alphabets: American Crafts and Making Memories; Journaling note pad: Jenni Bowlin; Chipboard alphabet: Tattered Angels
I think the simplicity of the layout mostly comes from the colors and the extreme is definitely the choice of elements.
Variation #1
- So far this week the layouts I've shown you followed the sketch by using circles. For this one I mixed it up a little and used a combination of circles and letters. Actually I had originally planned on using just letters but I happened to stumble across a set of chipboard letters that included a letter within a circle. Perfect! I ended up using the whole alphabet across the layout and boy was that a puzzle to figure out! I didn't want to overlap the letters too much like some of the circles on the sketch since I wanted each letter to show.
Here are some other ideas for using the whole alphabet on a page:
• The ABCs of ___________ (fill in the blank)
• Have your child write out the letters for a page about them learning the alphabet or learning to write their name.
• For layouts with pictures of kids reading or being read to.
• First day of school or really lots of different school layouts.
Variation #2
- On the left page I used two photos in place of the 4 x 6. They both have the 4" height and together they have the 6" width. I also left off one of the 4 x 4 photos on the right page to make room for more journaling, which leads me to the next variation...
Variation #3
- I knew that the story of my nerdy writing history was going to be too big for the suggested space that the sketch provided. My solution was to remove the bottom 4 x 4 photo so I could have ample space for the story.
Something a little different I did with my journaling space was using multiple journaling note cards. I have so many little journaling note pads that I love but it almost always seems that they are a little too small for what I have to say. Luckily, the journaling note card I wanted to use came with several of the exact same one. I layered three of the same journaling note cards on top of each other to give myself a lot more space. I love that I had plenty of room to tell the story and it also ended up looking kind of cool.
I also used tiny letter stickers to highlight some of the words in my journaling. The reason for this little addition? I misspelled a word while writing in pen and didn't have anymore of the journaling cards. Mistakes happen and sometimes that's when you really need the creativity. (I have another story along these lines involving a smashed gnat and a button.) The little letters stickers ended up being the perfect size for covering up my mistake.
Variation #4
- In place of the scallop strip suggested on the sketch this time I used several different border stickers. One thing, as a two-page scrapbooker, that can kind of frustrate me is that most of the time border stickers only come with one of each piece and sometimes I'm wanting two to stretch across my whole layout. Of course this never stops me from buying them! I loved these border stickers and was determined to use them on this layout. I finally decided to layer a variety of them in different styles and sizes and this way I was able to use them across the whole page and I used up almost the whole sheet of stickers.
Third chance for the giveaways starts today! :)