Day two of Sketch Week features enlargements and adding more embellishments to the layout.
The sketch that is the starting point for all five layouts this week.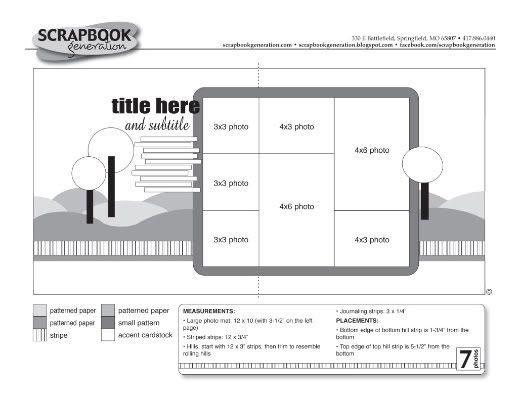 Layout #2 - Flowers For Mommy
Supply List - Cardstock: Bazzill: Alphabet: Doodlebug (flowers), BasicGrey (for), and Pink Paislee (mommy); Everything else: BasicGrey (Pyrus)

Variation #1
Sometimes is just plain old fun to throw in a really, really big picture. I don't do it often but it's an easy way to mix it up and really highlight a favorite photo. I used and 8 x 10 cropped down to an 8 x 9 for the whole photo block on the right page. Because the enlargement was cropped to the same size as the combined size of the four photos on the sketch there weren't any adjustments needed.
Variation #2
On the sketch the group of photos is framed with a 1/2" of paper around the photos. On the first layout I used a solid paper but on this one I used a pattern. The hardest thing about framing your photos with a patterned paper is that the pictures can sometimes get lost in it. To help mine stand out against the pattern I add a smaller frame of cardstock around the photos.
Variation #3
Yesterday I mention that I liked to create scenes on my pages and today I did the same as yesterday and took advantage of the hilly design of the papers. I substituted flowers for the trees and even added a few extra.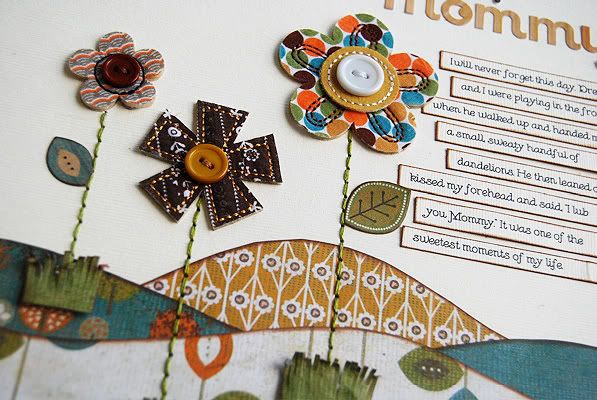 With the photos all grouped together in the center they instantly grab the attention so adding more flowers wasn't going to take away from them. You can add so much to those hills (you'll see just how much later this week) without overshadowing the pictures.
I also added little pieces of grass at the end of each stitched stem by cutting slits along the top edge of small rectangles of green patterned paper. After I had those cut I roughed up the ends and inked them to define the edges and help them to stand out.
Day two means it's your second chance at the BasicGrey giveaway! :)