If you are following the blog hop from Sketch Support, I'm the end of the line. Which also means that you traveled from Holland (Mireille's blog) to Missouri with the click of a mouse.
I know I probably say this about almost every sketch but, I think this is one of my favorites.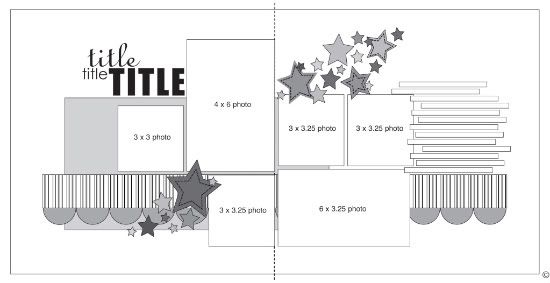 I love creating layouts that have a group of elements that sweep across the page. It adds such an eye-catching detail that, in my opinion, is fun to create.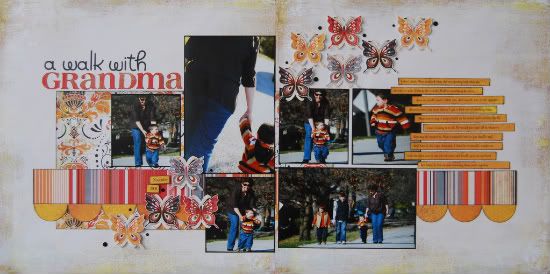 Supplies
-
Alphabets:
Doodlebug (black);
Jewels:
KaiserCraft;
Everything else:
BasicGrey
I followed the sketch exactly with the exception of trading the stars on the sketch for butterflies on my layout.
I have a feeling that I'm going to get "the look" from my mom about this page. I'm positive she won't be too fond of the focal photo of her butt. I knew it when I was putting the page together but couldn't resist the cute photo of her and Jackson holding hands while taking a walk. It was a sweet moment that I was glad I captured with a picture, butt and all.
As far as the questions:
1. When it comes to paper crafting I am...
Addicted. I mean, seriously, I can't stop.
2. Where do you craft?
It usually a toss up between on my bed (I know! Weird, right?) or Jackson's Lightning McQueen 24 x 24" table. Why, you might ask. Because this house is incredible too small for us. My closet is half clothes, half scrapbooking supplies. Thank goodness out of all the small spaces in this house, we were fortunate enough to have big walk-in closets.
3. When I am creating, these are the things I have to have around me...
Sugar free Red Bull,
my tool caddy thing,
music,
and a mess, because that usually means I'm in the zone and getting stuff done
4. When I'm not creating you can find me...
Chillin' with my boys - watching movies, coloring, washing mud out of clothes, breaking up fights, letting Jackson drive cars on my head, reading books, cleaning the rocks out of the dryer, building tents, trying to figure out it it's a pop tart mashed into the carpet or a strawberry fruit bar, jumping on the trampoline, playing with Legos, explaining to Drew why we don't yell "poop" in public. You know, the normal mom of boys stuff.
5. When it comes to sketches I...
Well, of course, I'm going to say I love them.
I love using them and the time and headache they save me.
I love making them, I could sit in front of the computer all day designing sketches.
I love seeing others using them. It's always cool to see how different each person's interpretation is.
I hope you enjoyed the Sketch Support "Get to Know the Creative Team" blog hop! Are you tired of giveaways yet? Surely not. How about one more?
I've got a giveaway today for a copy of
Sketches for Scrapbooking
, volume choice is all yours. Leave a comment and I'll announce the winner on Monday. And if you've hit every blog on the hop and left a comment, make sure you head over to
Sketch Support
to let us know!
••••••••••••••••••••••••••••••