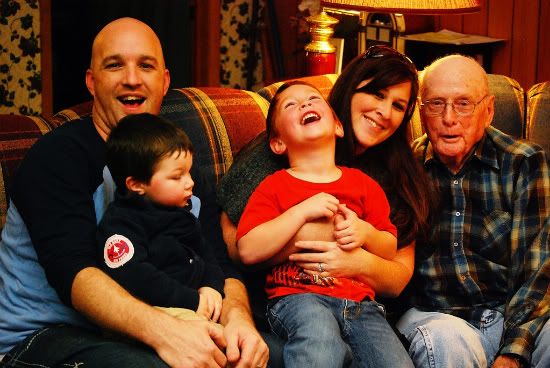 A little over a week ago my Grandpa Arnall was involved in a head on collision. I got a text from my cousin that evening with the news that my Grandpa was being air lifted to a hospital in critical condition. He is 88-years-old and I would be lying if I didn't admit that I thought at that very moment that I was never going to see my Grandpa again.
The past week has been a roller coaster. Surviving a head on collision of that magnitude is not a common thing, especially for an 88-year-old man. I'm sure you can imagine the extent of his injuries without me having to go into details. It's been a very tough recovery for him, one that will take a long time and he is hanging in there. He is officially the toughest man I know.
It's scary to think just how quickly your life can change.
The boys are anxiously awaiting to give their Great-Grandpa high fives again and we are hoping that day is soon.
I greatly appreciate all the prayers, good thoughts, and comforting emails and messages from everyone.
•••••••••••••