If you are following the hop from Sketch Support, I'm the end of the line. If you are just starting here I recommend going to Sketch Support and starting there so you can enjoy the whole hop.
I've always loved one-page layouts but I would be lying if I didn't admit that my heart will always belong to two-page layouts. One of the main things I loved about this one-page sketch is that I saw immediate potential for a two-page layout!
I used the general idea and design of the sketch and then extended it to cover two pages for my layout.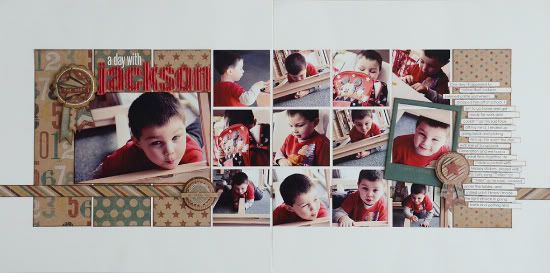 "A Day With Jackson"
Supplies - Cardstock: Bazzill; Patterned paper: My Mind's Eye; Embellishments: My Mind's Eye; Alphabets: Jillibean Soup (jackson) and Lily Bee Design (a day with); Punch: EK Success (scallop circle); Embroidery floss: DMC; Ink: Colorbox Fluid Chalk Ink; Sketch: Sketches for Scrapbooking, Scrapbook Generation
I saw this sketch as a great opportunity to use a lot of photos! I kept the design of the sketch exactly the same on the left page while moving everything to the right edge. Then, to complete the second page, I just repeated the pattern of four 2-1/2 x 7-1/2" columns.
For three of the columns I included three photos so I ended up with a total of 13 photos on the whole layout. The last column was filled with a 2-1/2 x 7-1/2" strip of patterned paper. I also moved my journaling over to the right page.
When it came to the details and embellishments, I used a chipboard frame to highlight one of my favorite photos on the page.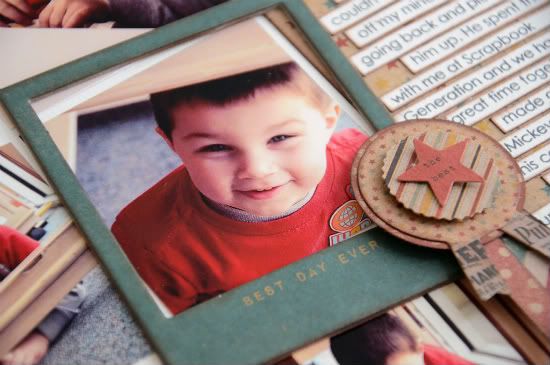 For the remaining embellishments I used a common theme that consisted of pre-made embellishments from My Mind's Eye and a few extra pieces that I added to some of them.
Here's a closer look: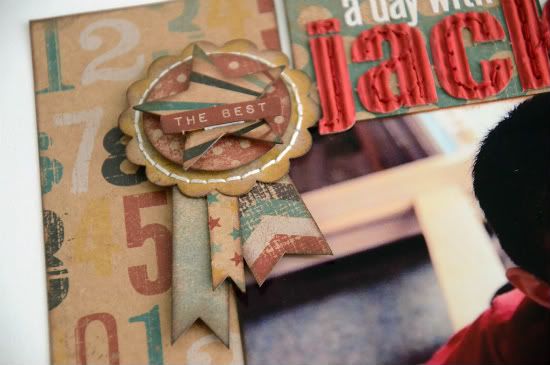 I'm sure you've noticed that we are all answering the same questions during the hop. We figured this was a great way for you to get to know us better!
How long have you been scrapbooking?
It's been about six years now. I started scrapbooking soon after we opened Scrapbook Generation. I didn't immediately start in, but was definitely curious. It was hard not to be when constantly distracted by pretty papers and glitter!
Why did you start scrapbooking?
Most of it had to do with Drew being born. I had a sweet little baby that I couldn't stop taking pictures of! Plus, I have always enjoyed creative activities so it was only natural that scrapbooking would come after having a baby.
Some of it also had to do with my dad's death. I realized that I could probably count the pictures I had of him on one hand. I would have given anything to have a scrapbook full of pictures and stories of him!
What is your favorite time of day to scrapbook?
Whenever my boys can join me! Usually that means after school and on the weekends.
How often do you scrapbook?
Almost every single day. I'm one of those lucky people that scrapbooking and creating is my full-time job.
Where do you scrapbook/what does your space look like?
Last year at this time I was scrapbooking on my bed. Now I'm so lucky to share a room with my boys. I have my big table to work on and they have a small table to work on. They've also got a couple of shelves with all kinds of art supplies and activities.
My favorite times in that room are when all three of us are in there, singing along to music and making stuff. It's a small room and we might be a little crammed in there but it's so enjoyable I don't think any of us care!
When I'm not scrapbooking you can find me...
baking cupcakes, chasing after the boys (not an easy task sometimes!), watching documentaries with Mike, helping with homework, listening to Drew read books, removing marker "tattoos", planning birthday parties for the boys, and lately I've been playing the piano a lot.
What is your favorite thing about using sketches?
The time that they save. It's so nice to have what can sometimes be the hardest part, the design, all figured out.
What is your favorite sketch from Sketch Support?
Two-page Sketch #26.
I hope you've enjoyed the "Meet the Creative Team" blog hop! Surely you're not tired of giveaways yet!
Today, I'm going to giveaway
two copies of Sketches for Scrapbooking
, volume choice is all yours! To be eligible, leave a comment on this post. I'll randomly select two winners and post them on Monday! Don't forget to check back and see if you won!
••••••••••••••••••••••