It's
add-on
week at
Sketch Support
and that means another idea for homemade embellishments.
I love pinwheels and was just waiting for the perfect month to have an add-on sketch of one. Pinwheels remind me of my childhood, of sunny days spent running around outside.
They also remind me of the time that a pinwheel stuffed in the top of my closet started spinning (the ceiling fan was on) and it scared me to death! I think that is what made me officially afraid of the dark!
I decided that instead of using the pinwheel as an embellishment on a layout, I could make a decoration for our home. I was hoping to kind of recreate that feeling of childhood fun with something I could look at everyday. I thought maybe if I was having a bad day I could look at it and smile. :)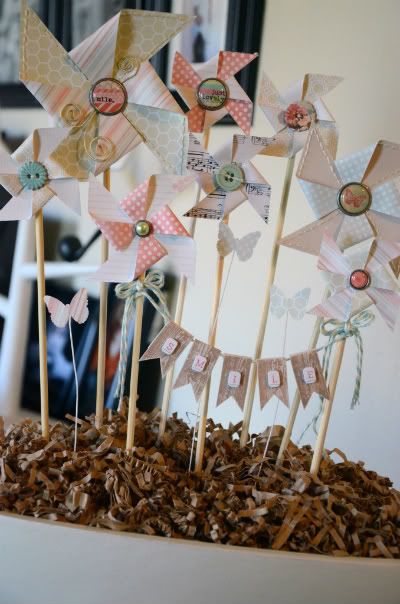 Supplies - Patterned paper: My Mind's Eye; Brads: My Mind's Eye; Buttons: My Mind's Eye; Banner stamp: My Mind's Eye; Alphabet stickers: My Mind's Eye; Memory Thread: DMC; Twine: My Mind's Eye; Butterfly punch: Martha Stewart; Other: oval bowl, paper shreds, wooden skewers, floral wire
If you've never made a pinwheel before, let me tell you, they are incredibly easy to do!
1. Start with any size of square. I used a variety, from 4" to 2".
2. Start at each corner and cut a line towards the center of the square. Don't go all the way to the center though. I usually stop between 1/2" and 1/4" from the center.
3. Start with one corner and one piece of that corner and fold in to the center. Secure with adhesive. Continue this with every other corner until you have four pieces folded in to the center and four that are out.
4. Add a brad or button to the center.
You can even added some extra details like I did:
I added hand stitching to the pointed, unfolded pieces and some curled Memory Thread.
Another detail I added is a "smile" banner. I stamped the banner pieces, added the alphabet stickers and then adhered the pieces to baker's twine.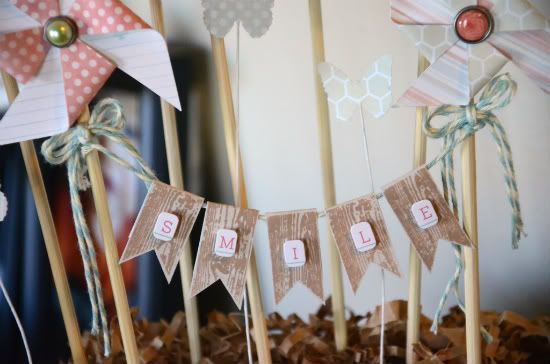 To finish everything I add a few pieces of floral wire with punched butterflies on them.