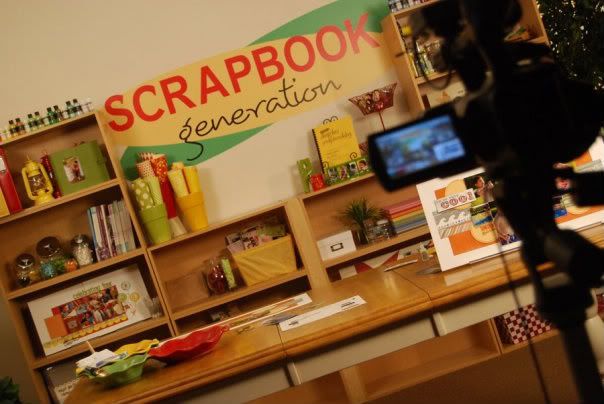 We spent Saturday night building our set for the DVD. Stacey and I, as always, thought it would be easy. I guess if you want to call nine hours of set building easy, than that's what we'll call it. It probably wouldn't have been that bad but, because we had a million other things to work on and we had to wait until the store closed at 5:00 p.m., we didn't start building until 7:00 p.m.
Just like cooking shows filmed on kitchen sets, we wanted our set to look like a scrapbook room. I think my favorite touch were the cute flower pots with rolls of patterned paper in them. Mom had made those for decoration in the store and we thought they were too cute to pass up for using.
The great thing is that the set is now become a permanent addition to our store. We all liked it so much that we couldn't take it down! It's the perfect spot to display pages and albums and if we do another DVD we've already got the set ready to go.
We are still doing pre-orders for the DVD at
Scrapbook Generation
. If you are thinking about getting it, now is the time. The DVD's will sell for $24.99 but for our first release you can get it for $19.99.
That's $19.99 for:
• 9 instructional layouts - Each chapter (there are three) has one sketch and then three variations using that sketch. A simple, enhanced and extreme variation to show you how to get the most out of sketches, products, and techniques.
• 25 printable sketches that you can print out and use over and over.
• Over 70 layouts in our layout gallery based off the printable sketches.
So basically it's a class, a sketch book and an idea book all rolled into one!