Here we go with layout #3!
My starting point, the sketch that my layouts are based off of from
Sketches for Scrapbooking, Volume 3.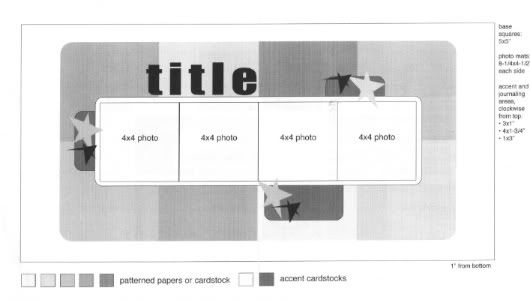 Layout #3 - "Standing Tall"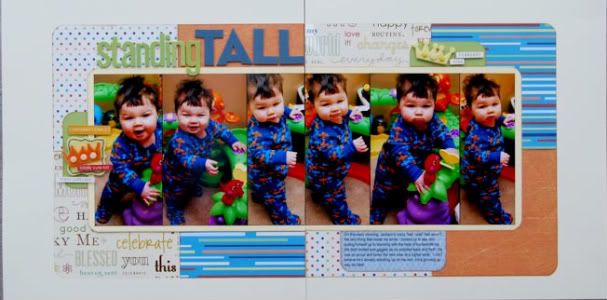 Patterned paper

- Piggy Tales, My Mind's Eye (orange solid),

transparency

- Creative Imaginations,

alphabets

- American Crafts,

felt shapes

- Fancy Pants Designs,

brads

- Doodlebug Designs 
Variation #1
- Again, the first thing you probably notice is the pictures (and Jackson's crazy "bed head" hair!) With these pictures if I would have cropped them down to 4" x 4" like suggested on the sketch I would have been either cutting off Jackson's head or his legs (which play a pretty important part in the story.) I, instead, kept the 6" height of the photo and cropped the width down so I could include more photos than just four. The whole photo block ended up being a little bit wider across the layout than the suggested size on the sketch but it's not enough to alter the overall look.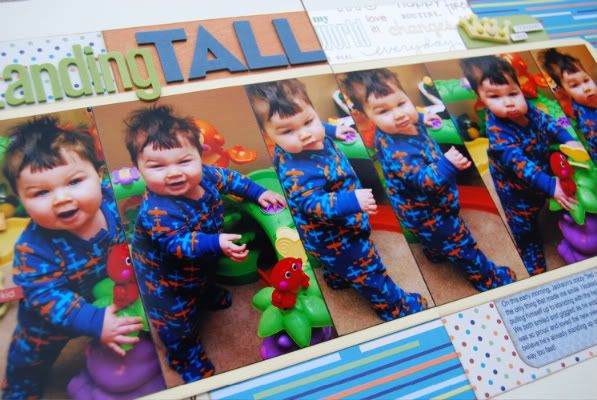 Variation #2
- On this layout, unlike the last two, I did follow the sketch exactly on the accent cardstock tabs. However, the embellishments I decided to use are different...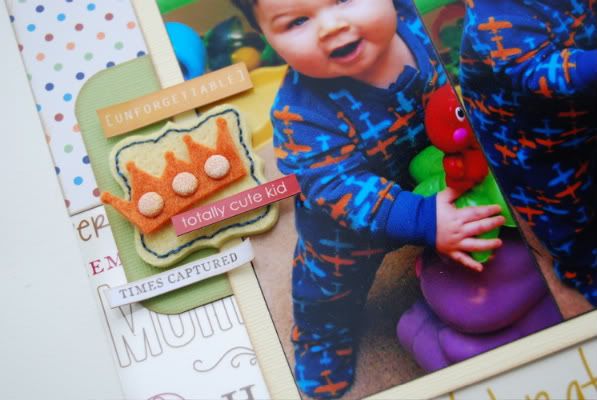 I used felt shapes and added my own little touches to them like hand stitching and brads. I also added some word stickers, one of my scrapbooking supply staples. I probably use them too much but I can't resist. They are such an easy thing to add and you can fit them in the smallest of spaces.
Variation #3
- In place of two squares of patterned paper I used a transparency with words printed all over it. Not a huge variation and probably not that noticeable but something a little different.
There weren't as many variations on this layout but, like I said in the post on Monday, this sketch really doesn't need a lot of variations to look different. The patterned paper background is such a huge part that simply changing the papers, changes the whole look.
It's a clean slate for day three and the giveaway! :)