This one is one of my favorites!
My starting point, the sketch that all of my layouts are based off of from
Sketches for Scrapbooking, Volume 3.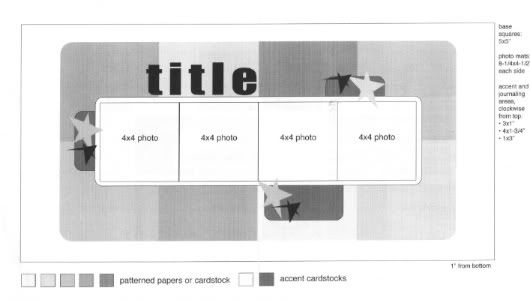 Layout #4 - "His Favorite Girl"
Patterned papers

- Fancy Pants Designs,

alphabets

- American Crafts, 

felt

- Autumn Leaves,

chipboard hearts

- Creative Imaginations, Fancy Pants Designs,

chipboard word

- Fancy Pants Designs,

Glimmer Mist

- Tattered Angels,

jewels

- KaiserCraft
Variation #1
- Well, I guess this really isn't a variation since the sketch doesn't suggest what kind of pictures to use, but I thought I would include it anyway. I did stay with the suggested 4" x 4" photo size on the sketch. Usually I use color photos but sometimes it just happens that black and whites work better. These pictures were all over the place in color. Most often that doesn't bother me but I really wanted to use a Valentine theme (partially because I love, love, love Valentine/love paper and seem to buy a lot more than I need!) and the colors in the pictures were not going to to work with that.
Variation #2
- One easy way to really change the look of a sketch is to use a patterned paper instead of cardstock as your base. I went with one that had a muted pattern so it wasn't overpowering. The subtle patterned doesn't overshadow the rest of the layout and the black helps the other colors on the layout stand out. 
Variation #3
 - This time I changed up the patterned paper background by using 2 1/2" squares instead of the suggested 5" squares. Using the smaller squares adds a completely different look while basically still having the same background, it's just broken up more.
Variation #4
 - I didn't round the corners on the patterned paper background or on the photo block like I have on the other pages. I also added a stitched border around the photo block. Not a huge change, but really it's all about little variations that can help you to get several layouts out of one sketch and each one look different.
Variation #5
 - Since I was going with a Valentine/love theme I decided to use hearts in place of the accent cardstock tabs.
I took chipboard hearts and covered them in die cut felt and then trimmed off the excess felt hanging off the edges. I also added a chipboard word covered in Glimmer Mist and jewels.
* Tip for adding Glimmer Mist:
I love Glimmer Mist but one thing that bothers me about it is the waste. If you are covering a small piece of chipboard you end up spraying more on your protective surface than the chipboard. Here's what I've been doing lately, shake the bottle like you usually would to mix the glimmer and then use a paint brush and brush it on the surface. Looks exactly the same but you don't have the huge amount of waste.
Variation #6
 - I decided to continue the heart theme for my journaling space. I covered a chipboard heart with patterned paper and added journaling strips on top of it. My favorite part about this layout is the journaling...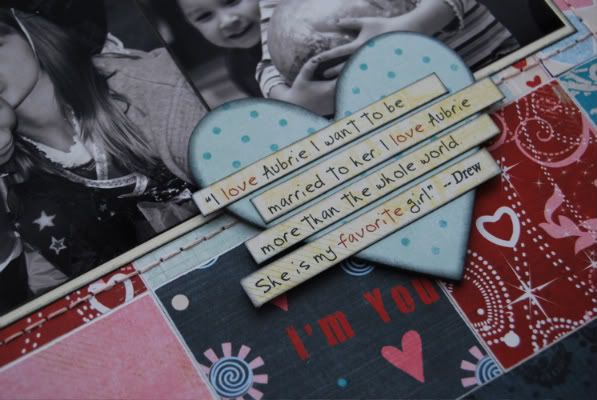 I love involving Drew in my scrapbooking (and he loves it too!) While I was making this page and got to the journaling point I thought who better to explain Drew and his favorite girl than Drew himself. He was thrilled that he had a part in this layout. I love that he's at the age where I can use his words on my layouts. Everyday he says something that has me laughing and I hope that one day he will be able to look back at layouts like these and laugh too.
Another day, another chance at the giveaway for a copy of Sketches for Scrapbooking! :)