I always like to show the sketch and all the layouts together. It's such a good way to see how easy it is to make small variations to each one and end up with layouts that all look completely different.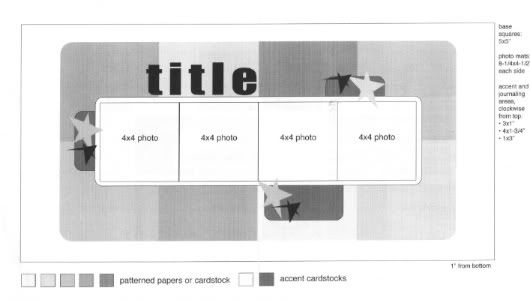 The layout the sketch itself was based off of -
"Bad Hair Day"
Layout #1 - " Can't Hold Him Back"
Layout #2 - "Seeing Santa"
Layout #4 - "His Favorite Girl"
Layout #5 - "Drew at Age Four"
When using a sketch multiple times here are a few things I try out.
•
use different sized photos
- like smaller photos in place of a larger photo on a sketch or a larger photo in place of a few smaller ones.
•
change up the papers
- using a scallop strip, torn strip, etc. in place of a normal, plain cut strip on the sketch.
•
flip the sketch
- try upside down or backwards.
•
switch the pictures
- if the sketch calls for horizontal photos, try using vertical instead. Obviously that won't work with every sketch but you might be surprised at how many it will.
•
break up the papers
- if the sketch calls for a 3" strip, try using three 1" strips or two 1 1/2" strips.
•
shrink it
- if the sketch calls for 4" x 6" photos but you would rather work with a smaller size just shrink the sketch to fit your photos.
•
add more space for journaling
- got more to say? Remove one or a few pictures to make more room for your story.
•
use different shapes
- if a sketch has stars, who says you can't use whatever you want. Flowers, circles, arrows, etc., whatever you need to do to make the sketch work for you.
Again, thank you all so much for the nice comments and taking part in sketch week. The winner of this week, thanks to random.org, is....
brad & lesley said...
I love this new sketch series you're doing...I find scrapping from sketches the easiest to accomplish, and you're ideas have my creative juices flowing! I especially love this seeing non-traditional colors on this Christmas layout. Goes to show you don't need to invest in themed product to make a layout look GREAT!

Congrats! Email me your address at alidavis1919@hotmail.com!
March sketches week will begin on Monday, March 8. I'm already narrowing down my sketch selection, it's always so hard to pick one! I see one and get the ideas rolling and then see another and a whole other flock of ideas fill my brain. If you have one of our sketch books, Sketches for Scrapbooking, and have one that you would like to see me use, feel free to let me know! :)