Friday means it's the last layout of sketches week. :( I'm enjoying this so much that I already can't wait for next month!
My starting point, the sketch that all of my layouts are based off of from
Sketches for Scrapbooking, Volume 3.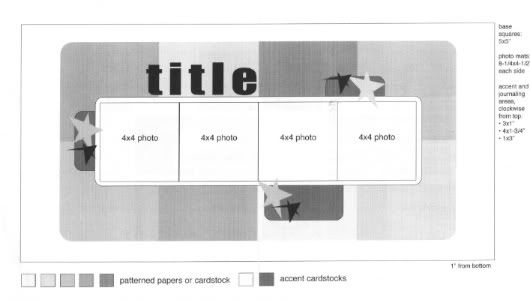 Layout #5 - "Drew at Age Four"

Patterned papers

- Crate Paper (blue, green, yellow),

October Afternoon

(dotted), BasicGrey (orange),

rhinestone embellishments

- Prima,

alphabet stickers

- Doodlebug Designs
Variation #1
- On the last layout, "His Favorite Girl", I divided the large patterned paper squares into smaller 2 1/2" squares. This layout follows that same pattern except I did this with the pictures. I have one focal photo that is the suggested 4" x 4" size while all the others are small 2" x 2" photos.
Variation #2
- Circles took the place of the suggested accent cardstock tabs this time. I added cute little emotion rubons to each one and adhered them with pop dots.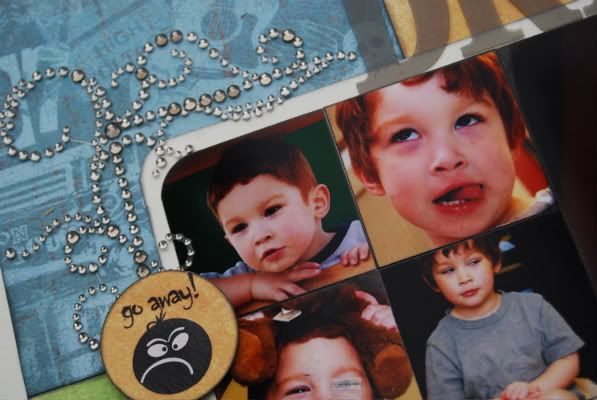 I also added rhinestone embellishments onto opposite corners of the photo block. This doesn't really come from a suggestion on the sketch but I thought they would be a fun touch. On the upper left one it goes down the left side of the photo block to somewhat stand in for the accent cardstock tab on the sketch. Same goes for the bottom right, it reaches far enough to the journaling block to somewhat count for that tab on the sketch.
Variation #3
- The journaling block on this layout is quite a bit larger than the one suggested on the sketch. To make some room for the bigger block I left out two of the 2" x 2" photos and then added my journaling block so that overlapped into the photo block in place of those two photos.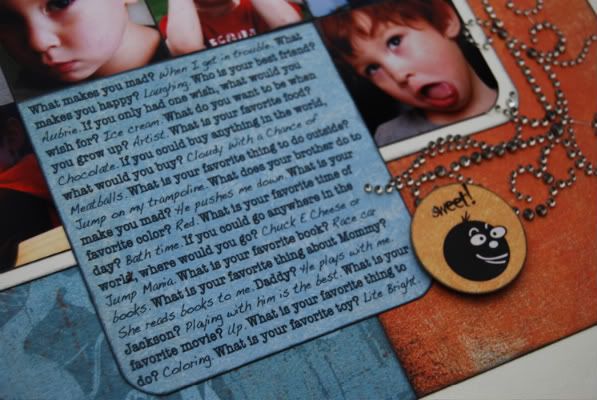 Drew was very happy to be my little helper again on this layout. This time we made up a little quiz with a lot of questions for him to answer. I really want to remember to do this every year and see how much his answers change over the years.
Today is the last chance for the giveaway and with the help of random.org, I'll announce the winner on Monday! :)
Thank you all so much for the super nice comments throughout the week! It's great to hear how many of you are enjoying the sketches. I know that I love doing this feature and can't wait to get started on next month. I hope everyone has a great Valentine's Day weekend! :)