I may get in trouble for this post. Dog house here I come!
Much to Mike's dislike I made him watch Twilight. Then when New Moon came out in the theaters I forced him, almost kicking and screaming, to go see it with me. Of course he moaned and groaned through movie like a typical male. When we got home and were settling down for the night he asked me, "So would you say you are team Edward or team Jacob?"
"Uh, duh honey. Team Edward!" I replied.
"WHAT!", he yelled with a little too much disgust for someone who didn't want to see the movies at all. About two seconds later he realized that his self labeled bad ass image was fading away and he might have over reacted. "I mean, uh, you don't like the buff guy?"
What followed that question was a 30 minute debate over vampires and wolves. Mike was desperately trying not to get too heated but I could hear the struggle in his voice. It was clear that he was team Jacob. The line was drawn.
I probably crossed that line when I thought it would be funny to tell this story to my super anti-Twilight brother-in-law. Mike didn't find this too funny. Jeremy on the other hand thought it was hilarious. I saw it as my payback for the very embarrassing information about me that he offered to his family the first time I met them.
So Christmas rolls around and Mike and I both get these round tube shaped presents from Jeremy and Stacey. I was baffled and very cautiously opened mine. The laughter could not be contained.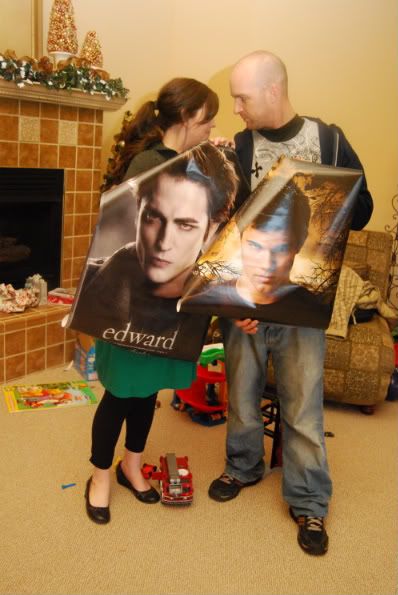 Mike was a good sport, especially considering that his secret had been exposed in front of my family. Those posters are now hanging on the inside of both our closet doors so that when they open Edward and Jacob have a little stare down. (Sometimes I forget mine's there and it makes me jump when I open the door!)
Let's hope Mike gets as good of a laugh out of this blog post as he did the posters. :)
Now to the non-Twilight portion of this post:
Come join me Sunday at 8:00 p.m. where I will be chatting with the
Fisk-a-teers
about our sketch books and DVD! There will be giveaways, a sketch challenge and I'm sure a lot of fun! :)