The first of the DVD layouts.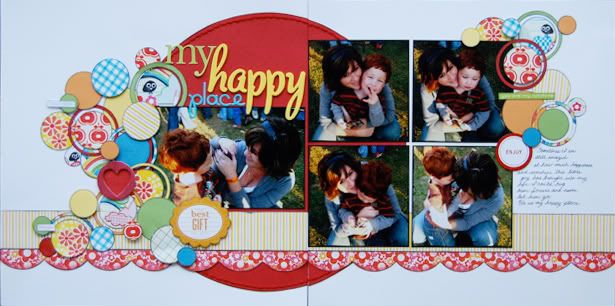 This layout was actually inspired by a piece of patterned paper from KaiserCraft. I happened to be walking through the store when I saw it out of the corner of my eye. I thought it would look awesome to do something similar across the whole page and I love the way it turned out.
When it comes to making my sketches usually I make a layout and then Mom takes over and turns it into a computer generated sketch. I think with this layout she wanted to kill me. She loved it for about 10 seconds and then slowly began to realize that she had to build a sketch off of it. I think out of all the sketches on the DVD this one took the longest to build.
It was also the layout the took the longest to make. It took a lot of arranging and moving things around for it to look right to me. Don't let this one scare you away from the sketch. I made another based of the same sketch and it went together in less than an hour. :)
The DVD is still available for pre-order at
Scrapbook Generation.