Welcome to
Sketches Week
!
One sketch, five layouts, and as usual a giveaway too!
This is the sketch, from
Sketches for Scrapbooking, Volume One
, (and requested by Shari) that all five of the layouts this week will be based on.
Layout #1 - "Can I Have a Popsicle Please"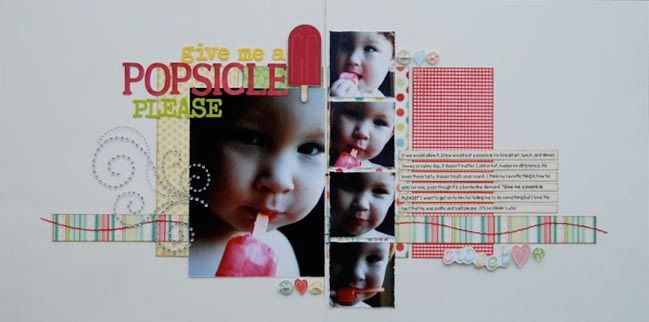 Cardstock:
Bazzill;
Patterned papers:
My Mind's Eye;
Alphabets:
Prima Marketing Inc. (give me a, please) and BasicGrey (popsicle);
Jewel flourish:
Prima Marketing Inc.;
Stickers:
My Mind's Eye;
Embroidery floss:
DMC
This layout is almost a direct copy of the sketch but still has just a few minor variations.
• Variation #1
- The title is quite a bit larger than the title on the sketch. This is something that I don't ever worry about. I'm always talking about a sketch being a suggestion and as long as the title is in the general area as suggested on the sketch, it's going to look just fine. Having a short, one word title just isn't always possible. I almost always pull my title from my journaling and in this case it was a longer one. The title, in my opinion, should be sort of like a headline. A short preview of what the story is about.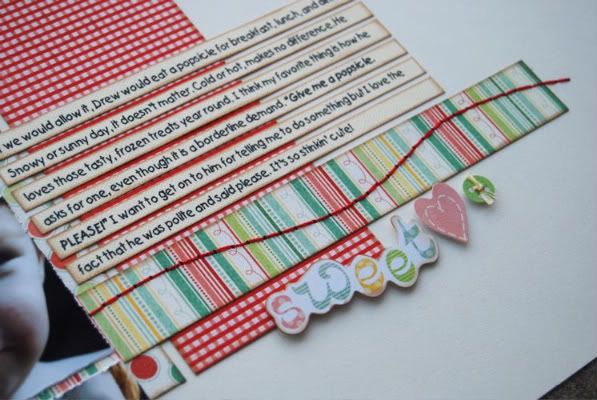 • Variation #2
- Instead of using the three small circles, I used a mix of things. Some button stickers, some heart stickers, and even a word sticker. I also moved the ones that are on the left page below the picture instead of below the flourish. The only reason for that was I didn't want to make that area around the jewel flourish to look a little too busy. That flourish is detailed and sparkly and I was afraid that having the stickers too close would have been too much.
• Variation #3
- This last one isn't really much of a variation but I'm going to mention it anyway. :) The flourish is obviously quite different from the one on the sketch. The chance of someone having a flourish that looks exactly like that are pretty slim. I took the flourish on the sketch, again, as a suggestion and just tried to use something in the same general area.
Another thing I want to add about this sketch and the pictures, I know that a lot of people like to work with 4 x 6 photos and this sketch doesn't even have one. You'll see on some of the other layouts this week how I work a few 4 x 6 photos into it. I honestly believe that you can always alter a sketch to fit 4 x 6 photos. It might take a few changes here and there but it definitely can be done! :)
Just like last month, I'll be doing a giveaway! I'll be posting everyday, Monday - Friday, with a layout based off the same sketch. All week you'll have a chance to leave a comment and next Monday I'll post the winner who gets a copy of Sketches for Scrapbooking (volume choice is all yours.) You can leave more than one comment through the week to be eligible but not on the same day. :)