Are you ready for more because here's day four! (Oh my. The only thing that can explain that little ditty is my sleepiness mixed in with my dorky personality!)
The sketch, from
Sketches for Scrapbooking, Volume Four
, that I have used as my starting point for each layout.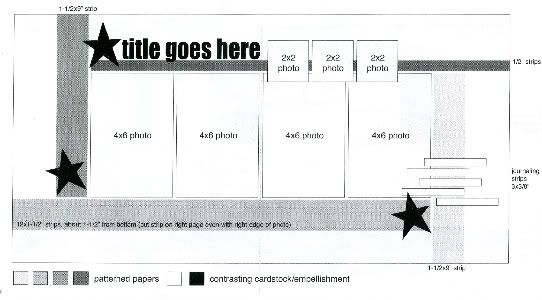 Layout #6 - "Drew's Farm"
Supply list
-

Cardstock:

Bazzill Basics Paper;

Patterned paper:

Nikki Sivils, Scrapbooker, KI Memories, October Afternoon, and Bella Blvd.;

Foam alphabet:

American Crafts;

Alphabet stickers:

Doodlebug Designs;

Chipboard tree:

Nikki Sivils, Scrapbooker;

Foam animals:

Jolee's;

Brads:

Nikki Sivils, Scrapbooker, Doodlebug Designs, and We R Memory Keepers;

Jewels:

My Mind's Eye and KaiserCraft;

Embroidery floss:

DMC
• Variation #1
- One weekend when I was teaching a class at one of our retreats I overheard a girl say,
"I never take vertical pictures."
The class I was teaching happened to be all vertical pictures. I stayed with her after the class to show her that many times you can substitute horizontal pictures in place of vertical ones. What started as a problem ended with a layout that worked with what she had. On my drive home from the retreat I knew that this would be a great variation to show for Sketch Week.
The paper design for this page easily allowed for the extra height needed for horizontal pictures.
• Variation #2
- Since I had more height on the page, because of the 8" height of photos instead of 6", I had to alter the papers just a teeny bit. I substituted the 1 1/2" strip on the bottom with a 3/4" strip. Having a larger strip put it a little too close to the bottom for my liking. I try to have close to the same margins along the top and the bottom (most of the time).
• Variation #3
- One thing I loved about using horizontal pictures was the extra space I had one the left and right of the page. Since it was one 4 x 6 it was only a 6" width instead of two vertical 4 x 6 that ended up with an 8" width. This extra space allows for a larger embellishment (the big tree) on the left side.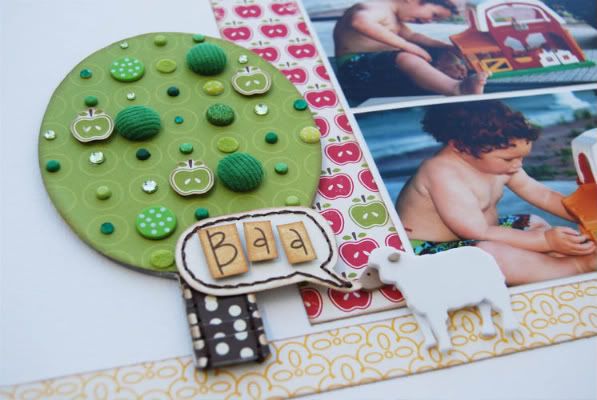 One thing I love about
Nikki Sivils, Scrapbooker
mini albums is that they don't have pre-punched holes. You can easily use them on your layouts as embellishments for those times that you want to have a larger element on the page. To see it you would never know that it's suppose to be a mini album page.
To make the tree I first cut a strip of brown patterned paper, pleated it, and then adhered it to the trunk part of the tree. Next I covered the top portion with  green patterned paper. To dress up the tree a little I added brads in all shades of green, green apples cut from a patterned paper, dots from some green alphabets, and green jewels. I also added two stitched lines to the trunk. Stitching on chipboard is little harder than paper just because it's a little tough to get the paper piercer through it. Once you get the holes pierced it's super easy to stitch.
• Variation #4
- Just like on the left page, I had some extra room on the right page. All I had to do to balance out the big tree was use longer journaling strips. I used 4" strips in place of the 3" strips suggested on the sketch.
• Variation #5
- I had so much fun with these cute little
Jolee's
foam farm animals that replaced the stars suggested on the sketch. I also had an idea to pull from my journaling by adding the little word bubbles with the animal sounds. In the journaling I talk about Drew making all the farm animal sounds and thought that the word bubbles would add a fun element to the page and support the story at the same time.
To make the bubbles I drew the shape out of cardstock, cut them out, and added a stitched border. You all know how much I love stitching! It's such a great way to enhance a simple or plain cardstock element like this one. For the words I printed them onto yellow patterned paper, cut a block shape around them, then added them to the center with foam adhesive.
Today is your fourth chance to win a copy of Sketches for Scrapbooking! :)
• I always love replying to my blog reader's comments and questions and have kind of slacked in that area this week. It's been a busy one! If you asked me a question you might want to go back and check it. I'm off to answer them all now! :)