Day three is a two layout day!
The sketch, from
Sketches for Scrapbooking, Volume Four
, that I have used as the starting point for all seven layouts.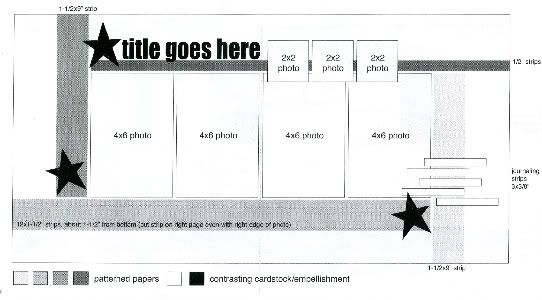 Layout #4 - "Carefree Sliding"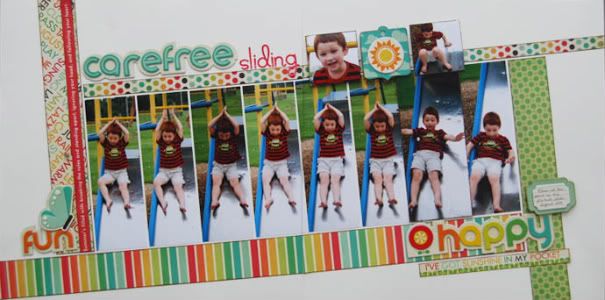 Supply List

-

Cardstock:

Bazzill Basics Paper;

Patterned paper:

We R Memory Keepers; C

hipboard words and embellishments:

We R Memory Keepers;

Cardstock stickers:

We R Memory Keepers;

Alphabet stickers:

Doodlebug Designs
• Variation #1
- Have you ever found inspiration from a product or it's packaging? I have! The idea to add a slant to this layout actually came from the way the chipboard words from We R Memory Keepers (the ones that I used on this layout) were packaged. Slanting might not always work with the sketch you want to use but it works great with this one.
If you do create a layout with a slant and have pictures that go across the middle of two pages you will want to be careful not to cut a picture through a face or body.
• Variation #2
- Instead of using four 4 x 6 photos I used eight 2 x 6 photos. Well, technically I used seven 2 x 6 photos and then on the right page I have a 2 3/4 x 6 photo (I'll explain that in a second.) These pictures where perfect for cropping down to a smaller width because there was so much empty space on each side.
The reason I have one of those pictures a little larger is that I didn't want to crop off Drew's arms. My solution for that was to crop as close to him as I could and find a way to make a wider picture work. I didn't want to use the same spacing the rest of the photos because it would have made the layout a little unbalanced. The right side of the page would have been a little longer. To keep the same measurements as the four photos (as a whole) on the left page, I placed the three 2 x 6 photos in the correct spot on the right page and then used foam adhesive and let the 2 3/4" x 6 photo overlap onto the two beside it. I also added paint around the edges of it to help those edges stand out against the two photos beside it.
• Variation #3
- I used three words, one as part of the title, in place of the stars. They are a little larger than the stars on the sketch but like I always say, look at the sketch as a suggestion. If it's in the same general area as suggested on the sketch, it's going to work.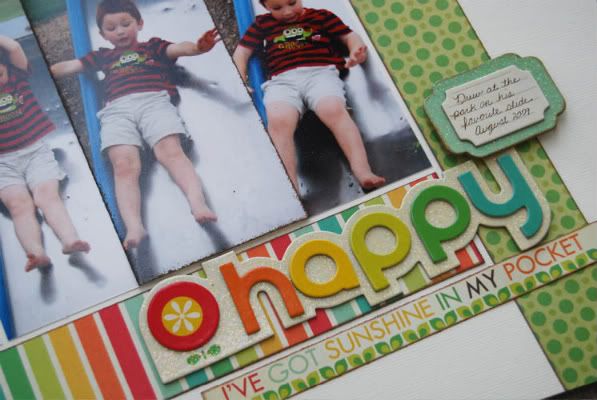 • Variation #4
- On the layout I posted yesterday I talked about how important I think the journaling is BUT sometimes there just isn't a lot to say. Sometimes it's best to let the photos tell the story. There wasn't anything I could tell you about the story of this layout that the pictures themselves didn't say. Because I didn't have much journaling for this page I used a small block instead of the strips. A simple, informative sentence and the date were all I need space for.
• Variation #5
- Here's another great solution for those of you that don't want to crop photos down to 2 x 2 for the top three pictures. On this layout I used an embellishment in place of one of the pictures. I could have substituted all three pictures with three embellishment squares but I had to get that picture of Drew smiling on the page somewhere!
In the comments on Monday's post, Luv2talk had another great suggestion for those three 2 x 2 photos. She had used the sketch and instead of having those photos she extended the title across that area. Great idea! That also works great if you've got a longer title and need the extra space.
Layout #5 - "Sunny Day Walks"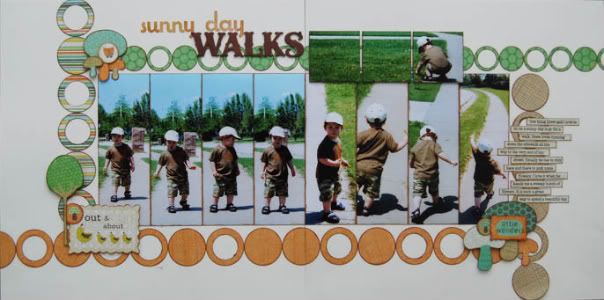 Supply List
-

Cardstock:

Bazzill Basics Paper;

Patterned paper and die cuts:

Crate Paper;

Chipboard alphabet:

My Mind's Eye;

Alphabet stickers:

Pink Paislee
• Variation #1
- The reason I posted both of these layouts on the same day is that they both use the same photo format. On this one I did the same 2 x 6 photos in place of the four 4 x 6 photos. This time I adhered them against each other instead of having margins in between them. I also added some ink around the edges so that each picture stood out against the ones next to it. I almost always ink the edges of photos that are similar and placed so that the edges are touching.
• Variation #2
- I decided to have a little fun with the patterned paper strips on this one and used a line of circles instead. This is a great way to completely change the look of the sketch. Just think of all the sketches that you could do this with and how different it's going to make that layout look! This would have also worked great with a lot of other shapes too - hearts, stars, flowers, squares, etc.
• Variation #3
- I let Crate Paper handle the embellishments instead of making my own on this one.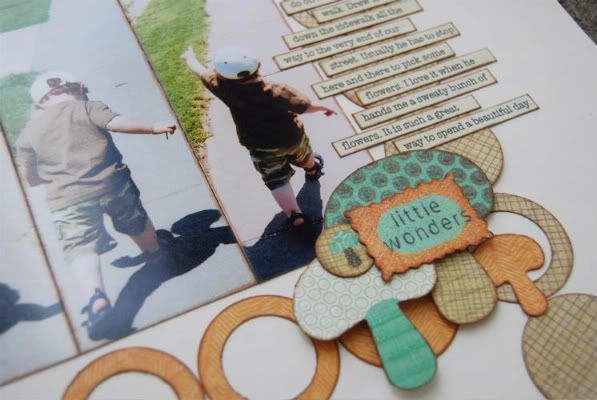 Stars would have worked with this layout but I was lovin' these cute little mushrooms and that "out & about" die cut was perfect for our walk theme.
• Variation #4
- Another option for the three 2 x 2 photos at the top is to take a 4 x 6 and cut it down to 2 x 6 (just like I did on the layout yesterday). Then cut it into three 2 x 2 squares. You have to be careful not to cut through a face or an important part of the photo. The one I used happened to be perfect for doing this. Drew fit in the far right photo with the grass scene covering the other two. I also think adding the margins in between makes in interesting to look at.
Today is the third chance for the giveaway! :)