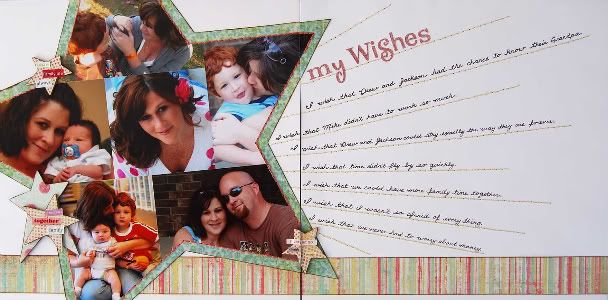 • as seen in Creating Keepsakes magazine
I don't do layouts like these all the time but I do like to throw one in once in awhile. Sometimes it's just fun to do something a little different.
Making the star collage of pictures is a lot easier than you might think. Here's how I did it:
• First I made two large stars with a ruler and pencil. I actually had a large star template but it was a little too small to use for the layout but big enough to use as a starting point. The largest star was used for the decorative edge around the pictures and then the second one was used for the pictures.
• Making collages like this are easiest, at least I think, if you make the shape out of cardstock to actually put your pictures on. So, after I had a star cut from cardstock, I started in the middle with a 4 x 4 picture. The rest of the pictures I could kind of get an idea or not if they were going to work with the points on the star by laying the star over the picture. If a face was peeking off the side I knew it wasn't going to work there. If it did work I adhered it to the star and then trimmed off the excess picture with the cardstock star underneath as a guide.
• After I had all the pictures adhered to the cardstock star I added it to the layout on top of the star out of patterned paper. Since the star extended across two pages I had to make two points to go on the right side.
• The last thing I added to help frame the pictures was a hand stitched border around the star.
I also decided to have a little fun with the journaling to match the star and added hand stitched journaling lines across the right page.
Since the star and the journaling lines were so eye catching I didn't want to overpower it with too much else. The striped strip across the bottom and a few small stars were the only thing else I added.