Every year when birthday season in the Davis household rolls around I get so excited. I love finding ways to add a handmade touch to some of the decorations.
For Jackson's second birthday party I knew that whatever it was I was going to make would be Disney Cars related. This boy is all about Lightning McQueen and racing. You don't know what panic is until it's Jackson's bedtime and you can't find his Lightning McQueen car that he insists on holding while he sleeps. I had this banner mini-album from Maya Road that I had been wanting to use for something and decided it would be perfect for making a Cars themed banner for the birthday boy.
Each triangle has a different character from the movie with a favorite quote from that character.
The banner was pretty simple to make. I just covered each piece with patterned paper. The ones with the scalloped edge I painted the edge with a metallic silver and then added patterned paper in a triangle over the middle. Then I made a thought/talk bubble and added stitching around it. After I added those to each triangle I added the character stickers. For their quotes I would pick a different font that I thought fit that character and then printed them, cut them into strips, and then added them to the banner. It was fun trying to find fonts that fit the character's personality.
This little guy loved it!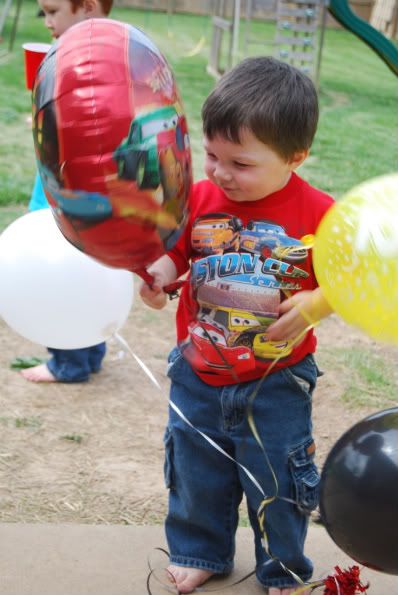 Since his bedroom it taking the turn of a Cars theme, this banner will now go over the window in his own room.
Next up is a Scooby Doo party. My brain is on overload trying to think of something to make with Scooby Doo! :)