"I feel so adventurous. There are so many doors to be opened and I'm not afraid to look behind them."
- Elizabeth Taylor
Not too long ago my husband and I used to joke around and say, "You know you're small time when you can be the author of a book and also be the publisher, printer, binder, and shipping department."
After years of designing, composing, printing and binding our own sketch books the time has come to take the next step. It's funny to think that what started as a simple Saturday activity at our store has turned into something that scrapbookers all over the world are taking notice of.
Starting at the CHA Trade Show at the end of July,
Scrapbook Generation
will begin selling our
Sketches for Scrapbooking
books to scrapbook stores all over the country. Yup, you heard me right. There is a possibility that Sketches for Scrapbooking could be in a store near you! (and this is perfect timing for the newest edition, Volume 6!)
I have been absolutely floored at the amazing things people have said about me and our books on
Two Peas in a Bucket
and other message boards. Thank you! If you don't have any of these books or you own a scrapbook store and are thinking Sketches for Scrapbooking might be something you want to carry, read a few of these threads. It's a great opportunity to see what others are saying about our books. Just click on any of the links below.
"I'm gonna shake things up today with my LO's! (using Allison Davis sketch books!)"
"I just ordered 2 Allison Davis sketch books!"
"...I ordered FIVE of the Allison Davis sketch books!"
"Allison Davis Sketches - which book should I get?"
Another exciting part to all of this is that Sketches for Scrapbooking will now be professionally printed. The covers are getting an updated facelift as you can see here.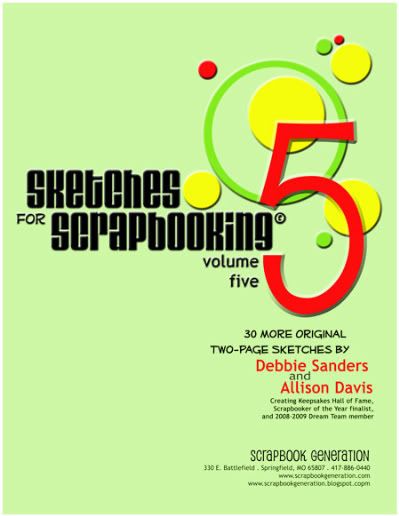 The content will remain the same with 30 double-page sketches and they are going to look better than ever!
If you want to see Sketches for Scrapbooking in your LSS, be sure to let them know! We are very excited to be in booth 648 across from other Springfield scrapbooking company,
Nikki Sivils, Scrapbooker.
:)