These cupcakes are in one word awesome! Okay, they deserve more than one word. How about delicious, cute, fabulous, scrumptious...okay I have to stop. Today is the beginning of my healthy eating and new exercise program and even just talking about them is too much temptation.
If you live in the Springfield and surrounding areas be sure to check out
Something Simple
by
Laura Parks
. She is the creator of these wonderful little treats. You can find her blog
here
and become a fan of Something Simple on Facebook
here
. Our chocolate buffet for National Scrapbook Day was the best we've ever had and I give Laura full credit!
We had a blast on Saturday for National Scrapbook Day. I couldn't believe how packed the store was when I got there.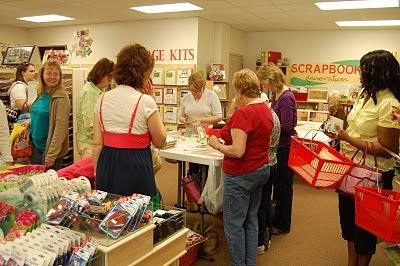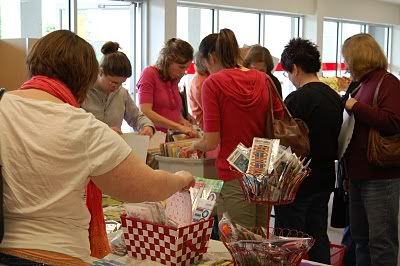 A big thank you to everyone who stopped by and celebrated the day with us! We hope you had as much fun as we did.
(I'll post the recipe I promised later this week.)
Be sure to check back on Wednesday. All of us at Scrapbook Generation have a fun announcement to share. :) Now I'm off to work on Sketch Week layouts! It's only a week away!