Since I seem to be following a two layouts a day pattern I thought it was best not to break that pattern. Both of the layouts today show how to add in a cropped 8 x 10 and I'm sharing my most favorite of all the layouts this week (#8 - My Sunshine).
This is the sketch, from
Sketches for Scrapbooking, Volume 6
(available July 1), that I'm using as the starting point for each layout this week.
Layout #7 - "Shooting Practice"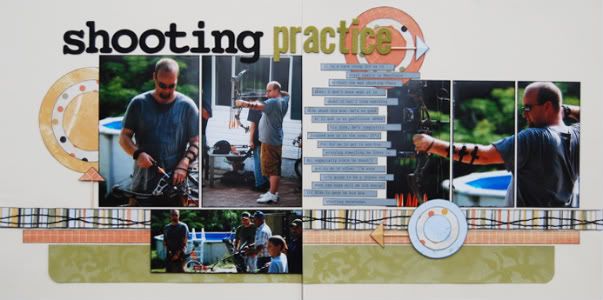 Supply List - Cardstock: Bazzill; Patterned paper: Rusty Pickle; Alphabet: American Crafts and My Mind's Eye; Glimmer mist and Glimmer Screen: Tattered Angels
• Variation #1
- While the circle on the sketch does play a big part in the layout, the layout can stand alone without it. On this one I decided to leave the circle off. Sometimes you might not have a die cut patterned paper to use or have a way of cutting such a large circle. Don't worry, you can skip the circle and still get a well balance layout.
• Variation #2
- For the bottom 2 1/2" x 4 1/2" photo on the left page I ended up using a 2 1/2" x 6" photo. I wanted to make sure and include everyone that was in the picture and not crop anyone out. There is plenty of room for the extra width and you could even add more photos along that bottom.
• Variation #3
- On the left page I use one 8 x 10 photo and cropped it down for the three 2 1/2" x 4 1/2" photos. It's all the same photo but separated into three different pieces. I just thought it added an interesting look. You could also do the same thing and not cut them into the three pieces.
• Variation #4
- Instead of the stars suggested on the sketch I made targets by layering patterned papers cut into circles. Then on each target I have a little arrow made from toothpicks and a patterned paper triangle. They were super easy to make!
• Variation #5
- I changed up the strips on the bottom this time. For the top one I added a pleated striped strip and then added some wavy stitching across the top of it. I thought the wavy line would help to add movement to the page and would fit well with the arrows.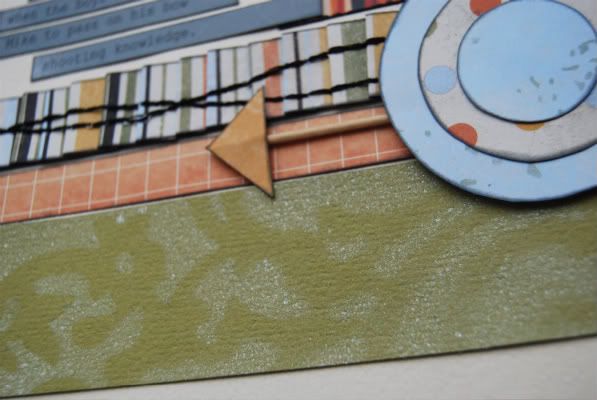 For the bottom strip I cut it a little larger than suggested on the sketch. I wanted to add margins in between the strips for a different look but that put my 1" bottom strip barely showing along the bottom of the 2 1/2" x 6" photo on the left page. I thought if it was going to show below is should have a little more than just a teeny bit. (Sometimes I wonder if you guys read this stuff and think I'm a little quirky with some of my reasons!)
I also added a subtle pattern to the green cardstock with Glimmer Mist in Marshmallow (one of my favorite colors!) and a Glimmer Screen.
• Variation #6
- I had a long title so I stretched it across both sides. That's a great thing about this sketch. There is a lot of room for a longer title but it also looks great with a small title.
Layout #8 - "My Sunshine"
Supply List - Cardstock: Bazzill; Patterned paper: My Mind's Eye, Fancy Pants Designs, and Reminisce; Die cut punch outs: My Mind's Eye; Alphabet: Doodlebug and American Crafts
Where to start? There are a lot of variations on this one!
• Variation #1
- I guess the best place to start would be with the most noticeable variation. I have had a sketch in my sketch book at home that I had drawn out a couple of years ago that looked very similar to this. It had a large circle off to the side with sun rays/patterned paper going across the page. This isn't the same sketch but when I looked at it I thought the idea would work perfectly. So, I add patterned paper strips that stretch across the whole layout to serve as sun rays. I also added in some hand stitching in between a few strips. To complete the look of the sun I added buttons with embroidery floss tied through them around the outer edge of the circle.
• Variation #2
- Because the sun rays where so bold and colorful I didn't want to clutter up the page too much. I decided that the striped strip alone would be enough. Adding too many strips would have made the whole sun design kind of lose itself in those strips. It would have been too much. I definitely wanted that sun design to stand out.
• Variation #3
- I love the large photo of Jackson on the left page. I just can't get enough of those blue eyes! I wanted this photo to really stand out so I had it printed as an 8 x 10 and then I cropped it down to 6 x 8. It's still got the same width and height of the two 4 x 6 photos on the sketch, it's just one picture instead of two.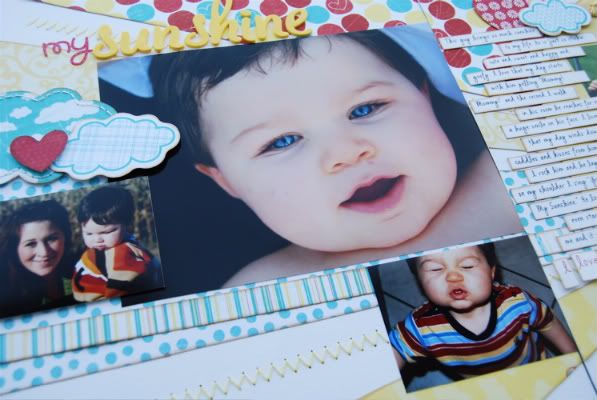 • Variation #4
- Instead of using the suggested 2" x 2 1/2" photo on the left page I used a 2 1/2" x 3 1/2" picture. I didn't want to crop it down and because the large photo had some empty space on the bottom left I was able to overlap the smaller photo onto it. This way the longer width didn't have it running too close or off the edge of the page.
• Variation #5
- I also used a 2 1/2" x 3 1/2" photo in place of the 2 1/2" x 4 1/2" photo on the bottom of the left page. There are so many options with that photo on the bottom since it kind of stands alone. There really isn't much, like page design or other photos, that make it a big pain to use a variety of smaller sizes.
• Variation #6
- I hardly used the photo sizes suggested on the sketch for this layout! On the right page I used one of the 2 1/2" x 4 1/2" photos in the center and then added four smaller photos in place of the other two photos on the sketch.
With any sketch you can always exchange smaller photos for larger ones and it's a great way to get more uses out of the sketch. Just think of all the possible photo combinations you could do!
• Variation #7
- Along the bottom where the three word strips are on the sketch, I did something a little different but at the same time very similar. I took one sentence, made it larger and a different color, and then cut around each individual word.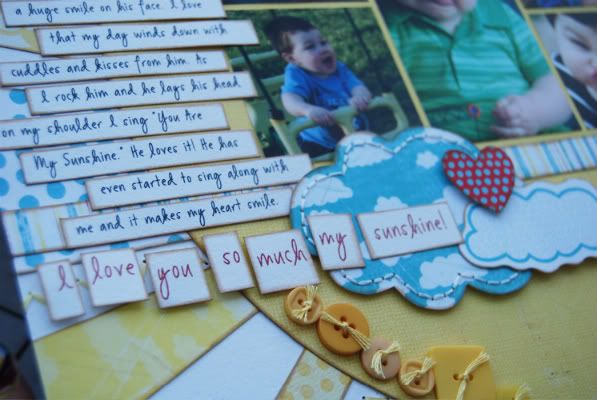 It's not a huge difference but yet an easy way to give it a different look.
• Variation #8
- To go with the whole sunshine theme I added clouds and hearts in place of the stars suggested on the sketch.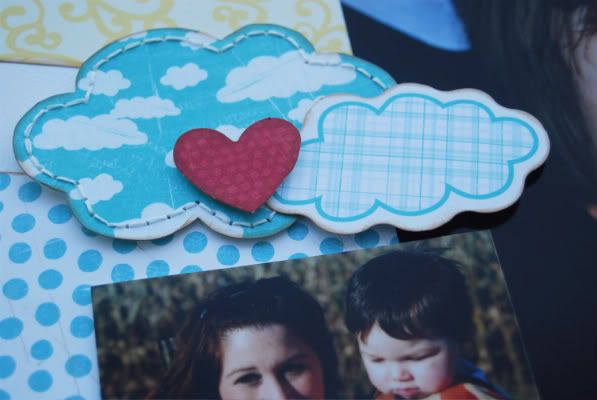 The clouds with the white edge and the hearts were die cut punch outs and then the blue clouds were from a set of cupcake shaped chipboard that I had. I just traced the shape, cut it out, and then added some hand stitching around the edges.
I know that this layout is more of an extreme version of the sketch but I just want to show that you don't have to follow a sketch down to every single detail. There aren't any rules, as far as I'm concerned, when it comes to scrapbooking. :)
The winner of
Sketches for Scrapbooking
from yesterday's post is...
Miss Misi
said...
Love the "crayon" look of all the accents...perfect for theme!
and a little
surprise
giveaway today - The same blue glitter star border that I used on my "Freedom" layout and some coordinating tags (sooooo cute!) and a small set of acrylic stamps from We R Memory Keepers goes to...
Sonya
said...
I love seeing how different your layouts look, all using one sketch! Thanks for the inspiration.
Email me at
alidavis1919@hotmail.com
with your shipping information and Miss Misi you'll need to let me know which volume you would like. :)
I just wanted to let everyone know I am having some issues with blogger and have had trouble with leaving comments. I always go through and reply and answer questions so don't think I'm ignoring you. I'll keep trying!