That title might be a little confusing so I'll just show you and then explain after.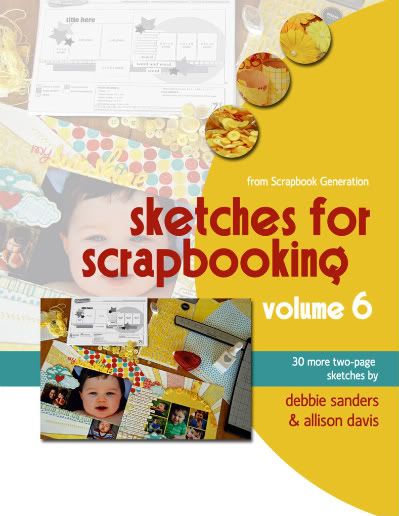 Now do you get it? We've made a new, new (new twice since this is the second one) revision of the redo (the original "new" cover) for our
Sketches for Scrapbooking
series.
Why you might ask?
Because sometimes we can be a little picky and with this we knew we could do better. It was one of those things where we just weren't really thinking about all the possibilities. We were thinking small when we should have been thinking big.
This cover is for
Volume 6
with the other volumes following the same format and each featuring a different color and a different layout from a sketch in the sketch book.
I can't even begin to explain how excited I am to attend CHA with our new division of Scrapbook Generation,
Scrapbook Generation Publishing
. In one way I'm surprised that this is the turn our company has taken and in another way I'm not at all. This is the kind of thing that just happens to be completely comfortable to us. It kind of feels like we have returned home to our design, writing, publishing type of roots.
It feels good to be back home. :)