He was at the Davis house last Sunday.
Drew was very certain that he wanted a Scooby Doo theme for his birthday party. Scooby has to be getting old since I remember loving him when I was little. Add that up in dog years and wowza! That's one old puppy.
You all gave me some great ideas for our Scooby Doo theme and I had a lot of fun planning and making everything. Everything that is except for the cake. Drew is in a "get into things I'm not suppose to and hide it in odd places" phase. Like spatulas under his bed, Glimmer Mists in my desk drawer, glue in the pantry, etc. He got into my cake decorating supplies and hid half the stuff I needed. I would move onto the next step of making the cake only to find I didn't have the right tool or tip or color. It was like a treasure hunt mixed in with cake decorating. It was one long night.
Probably the most fun decoration of the bunch was a dog food bowl filled with "Scooby Snacks" aka, Chex cereal covered in chocolate, peanut butter, and powdered sugar.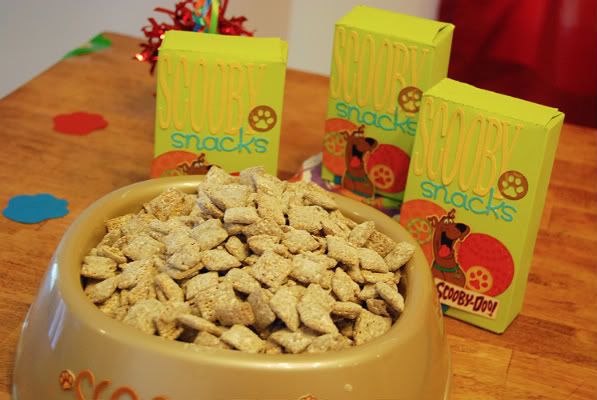 The little box of "Scooby Snacks" were made from cereal boxes that come in variety pack. I painted them green and then added all the fun little details. The Scooby Doo was cut out of a treat bag crayon box. I looked for Scooby Doo scrapbooking supplies but found myself out of luck so I ended up using Scooby Doo pictures cut out of all kind of things.
For the banner Drew requested to have one just like Jackson's. He can't stand for Jackson to have something that he doesn't get too.
The only difference is that I used a two different sizes. The smaller ones had a paw print with the letters to spell Drew's name and the larger ones had cirlces, paw prints and Scooby Doo. Just like Jackson's, this one will move into Drew's bedroom.
As far as the cake goes...
Let's just say it's a good thing I call myself a scrapbooker and not a cake decorator! The kids are just going to have to deal with not so pretty cakes because I'll always be the one to make them. It's just one of those little things that is important to me.
This ended up being my favorite photo from the day.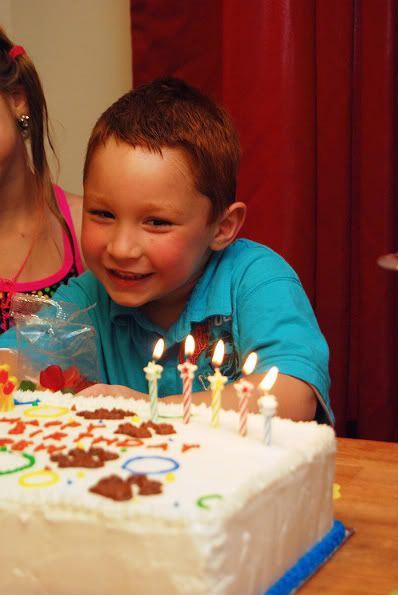 Usually I take a ton of photos but we had a surprise mishap that put a little damper on that. We got Drew a pool for his birthday, nothing fancy, just a plastic pool with a slide. About two hours before the party Mike went out to mow the yard. We had the pool hiding in the garage and when Mike put it out in the driveway so he could get the lawn mower out he didn't realize that Drew was peeking out the front window. From that moment on all Drew wanted to do was swim and splash the day away. We barely got him to come out of the pool to open presents. How crazy is that! I got a few pictures of him zooming through his presents and a few of him with his cake and that was about it. BUT, he had a great time and that's all that mattered to me.