The last day of August Sketch Week is here. I'm always a little sad when this day rolls around but I'm also already looking forward to the next one.
The sketch that I'm using as the starting point for all five layouts this week.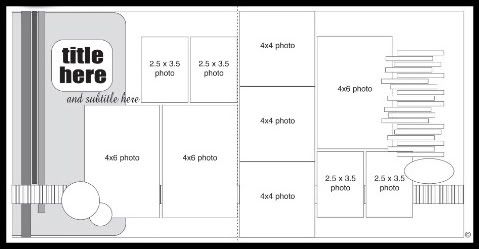 Layout #5 - "Halloween Night"
Everything is from the
My Mind's Eye Blackbird collection.
I'll start with the photo variations since there are several.
• Variation #1
Every once in awhile I feel the urge to include an enlargement on a layout and adding one to this sketch is effortless. Most of the time to include a larger photo I just use it in place of two smaller photos. In this case I used the 5 x 7 instead of the two 4 x 6 photos on the left page. It fit perfectly because it's only an inch shorter on both the height and the width. The times that adding an enlargement might get a little tricky is when you have to alter the design of other photos or the papers. The lost inch on the height didn't really alter much other than more space above and below the pictures on the left page. The lost inch on the width ended up leaving me more space for bigger embellishments and it shows more of the patterned paper.
• Variation #2
You might get a little tired of this variation since I've used it several times this week. I'm going to take it as a clue that I need to take more vertical photos! Instead of the two vertical wallet pictures on the left page I used a horizontal 4 x 6 for the simple reason that I didn't have a vertical photo.
• Variation #3
The three 4 x 4 photos on the sketch is an area where you have lots of opportunities to alter it. Like I have mentioned earlier this week, you could use two 4 x 6 photos, make a collage of smaller photos, or use four 3 x 3 photos, or twelve 2 x 2 photos. There are so many combinations you could use. I would try not to go past the 4" width as suggested on the sketch though. When you do that you are taking away from the other photos on that side of the layout. However, if you did you could always substitute smaller photos for those as well.
I went with vertical wallet size photos so the width of my photos in the line ended up shorter than the 4" suggested on the sketch. This works just fine because you are actually leaving more room for your journaling and embellishments.
• Variation #4
I had bigger and more embellishments than the sketch suggested that I wanted to use. One way I could make a little more room for those things was to substitute a 4 x 4 photo for the two wallets. That shortened the width of that photo area and left me plenty of room to add the embellishments that I wanted to use.
• Variation #5
Speaking of embellishments I used the little kids in costumes instead of the circles on the left page and the oval on the right page. It just happened to work out perfectly that we had a super hero, a witch, and a cowboy in our trick or treating bunch. Plus I thought these were just plain cute!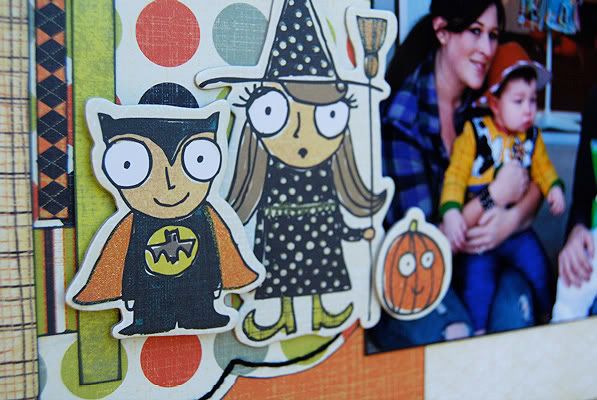 They are a little bigger than the embellishments suggested on the sketch but all you have to do is adjust a few things to fit. For example, the photo sizes I mentioned in the other variations.
Variation #6
This time I used both a die cut patterned paper and a straight cut piece of patterned paper. The die cut patterned paper isn't actually a die cut though. Have you ever wanted to use a die cut patterned paper but the papers you were using didn't have one and you couldn't find one to match? When I'm in this situation I make my own. The one I have is made from a large 12 x 12 template that is shaped like a die cut paper. You could also use a die cut paper as a template.
One thing that I think is kind of vital to making your own is adding some sort of frame around it. On mine I added hand stitching. It helps to define the shape of the paper and adds a finishing touch to it. If you aren't a big fan of stitching you could always use a pen, glitter, buttons, brads, memory thread or craft wire, or word stickers.
• Variation #7
I did go back to the journaling strips as suggested on the sketch but I also added a lot more. I had so many things that I wanted to include in the story and wasn't about to leave anything out. Changing the photos sizes helped a lot with this. Because of the column of wallet size photos I was able to have longer journaling strips.
Today is the last chance to get in for the
My Mind's Eye
and
Sketches for Scrapbooking
giveaway!
Be sure to check back on Monday when I'll announce the three winners. I'm excited to see who wins. I know how excited I was when I got all of this stuff to use on the layouts for this week and I can't wait to pass that happiness on to others!