A few people have mentioned using this sketch for a travel or road trip theme and today's layout does just that.
The sketch that is being used as a starting point for all the layouts this week.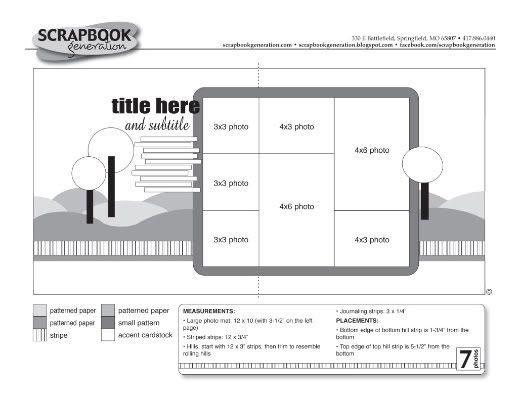 Layout #4 - Visiting London
Supply List - Everything is BasicGrey (Wander)

This layout has a ton of stuff added to the hills but like I mentioned earlier this week, with the photos all being grouped together near the center, the extra elements don't overshadow the photos.
Variation #1
On this layout I went from a seven photo sketch to a thirteen photo layout. I know with my travel pages I like to fit as many pictures on it as I can. By breaking up most of the sizes on the sketch into smaller photos I was able to include a lot more. Substituting smaller photos for larger ones is so easy to do and gives the layout a whole new look.
Just like the other layouts this week all the photos still add up to the same measurements as the photo block on the sketch. It's kind of like a puzzle. I knew I wanted at least one larger photo so I kept one of the 4 x 6 photos as it was on the sketch. The rest was just finding the right measurements and the right photos to fit in the right spot. It's really easy to do.
Variation #2
I decided to change up the hills a little on this layout by having taller hills. I need more room for the car embellishments that I wanted to use and by having taller hills I could fit them into the space a little easier.
Variation #3
I also added another hill. The sketch has three but I added in another to get a few more of the colors in the patterned papers in my layout. Between the solid green hill and the solid red photo frame it was kind of looking a little dull and weird. By adding in a patterned paper with all the colors from the collection in it, it helped to tie all the colors together. Plus it made it a lot more colorful!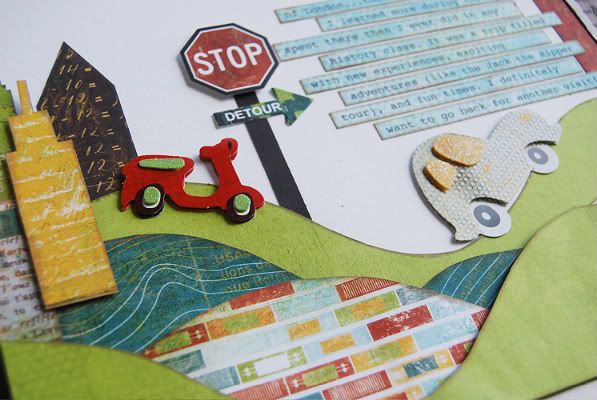 Variation #4
Instead of the trees I used cars and traffic signs to support my travel theme. I was afraid at first that the extra pieces would be too much but the photos still stand out. I also added a group of little buildings to the left edge of the layout.
Day four means it's the fourth day to get in on the
BasicGrey
and
Sketches for Scrapbooking
giveaway!
Speaking of giveaways...
I was in the mood to do a completely unexpected and random giveaway from yesterday's comments so...
KarlaW
said...
LOVE the big Christmas tree! Very detailed!
You have won a copy of Sketch for Scrapbooking! You can email me at
alidavis1919@hotmail.com
with your shipping information and which volume you would like.
:)