Today is Guest Designer day! Who could this mysterious person be? She's awesome, my best friend in the whole world, and my sister, Stacey.
I've encountered what is no doubt the busiest time of my life so far. Stacey immediately stepped in wanting to know what she could do to help. I swear, if it wasn't for her I would have never made it through the last month. When I asked her if she would be up for contributing to Sketch Week she was so excited. Then when it actually came down to making the layout she was so worried. Worried that she would let you guys down. Stacey doesn't give herself enough credit for her creativity. At all. I absolutely love the layout she created and I know you guys will too!
The sketch that has been used as the starting point for all five layouts this week.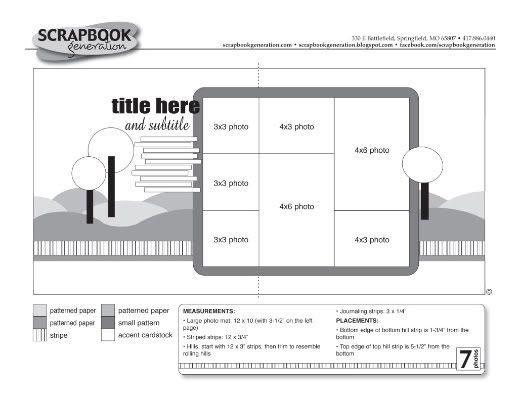 Layout #5 - The Best Job I Ever Had
by Stacey Atchley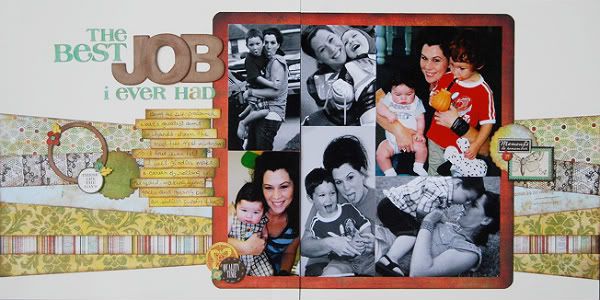 Everything on the layout is from the BasicGrey Curio collection.

Variation #1
For those of you that are a little leery of trying out those hills on the sketch, this layout is for you! Stacey substituted angled strips on her layout for the hills on the sketch. On this sketch those hills aren't in anyway part of the photo design. Meaning that if you change the hills you don't have to adjust the pictures and if you change the pictures you don't have to adjust the hills. Because of that you can do anything you want in place of those hills. Maybe three straight strips or five strips or blocks of patterned paper, etc. There are endless possibilities!
Variation #2
So far this week each layout has showed a different arrangement of photos, and Stacey's layout follows that pattern. She added a 5 x 7 and then built the remaining pictures around it. She did have to crop an inch off the 5 x 7 so that all the pictures lined up correctly. I mentioned yesterday that arranging those photos is a lot like a puzzle. I think the easiest way to start is with one photo, preferably the largest, and then build around it, like Stacey did. Let that larger photo whether it's an 8 x 10 or a 3 x 5 be your guide for the rest of the photos.
Variation #3
Since the hills where replaced with angled strips Stacey decided against using the trees. They probably would have look a little out of place on the straighter strips. Instead she added circles next to the journaling, the bottom left photo, and the left page.
One thing to take note of, on a scene type of layout it looks fine to have an embellishment or two far away from the rest of the elements on the page. On a regular layout, not so much. This doesn't really apply to this sketch because the trees on the left page are right next to the journaling which is right next to the title and the photo block. Everything is grouped together. However, on a few of my layouts this week, (Flowers for Mommy and Visiting London) some of the embellishments are spread out across the whole page. Since it is a scene layout it worked. You would just assume that a scene will stretch across the whole page. If you would have spread elements out like that one a non-scene layout it would have left weird gaps and would have been a little distracting. Of course this doesn't apply to all layouts. That's the beauty of scrapbooking, there isn't a right or wrong way to do it!

Day five is your last chance to get in on the BasicGrey and Sketches for Scrapbooking giveaway!

Check back on Monday when I'll be posting the winner of the giveaway and the date for October Sketch Week. Have a great weekend! :)
I never know when people ask me questions in the comments section and I answer them if they come back and see it. I'm going to post the questions and my answers on Monday so I know you guys are seeing the answers. I did notice that a lot of you were asking about the flowers on the "Flowers for Mommy" layout and the cars on the "Visiting Londay" layout. They are all from BasicGrey. I probably should have listed everything in the supply list individually. Usually if I make my own embellishments I'll mention it in the post. :)