The layout for day four is in one way simplified and then in another way it's not. It all depends on how you look at it.
The sketch that has been used as the starting point for all five layouts this week.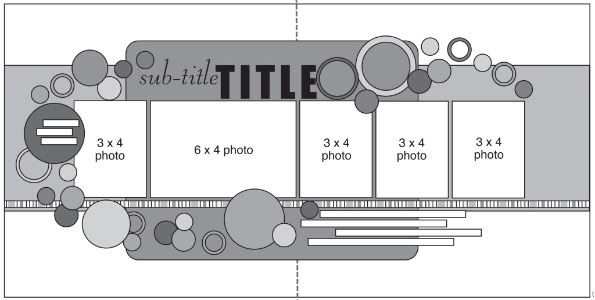 Layout #4 - "Picking Pumpkins"
Supply list -
Cardstock:
Bazzill;
Patterned paper:
Creative Imaginations and KI Memories;
Alphabets:
Prima and BasicGrey;
Word stickers:
K&Company and 7Gypsies.
When I sat down with this sketch and starting writing out my notes for the variations a fall page with windblown leaves going across it was at the top of my list. I'll admit when I first started putting it together I wasn't liking it but when it all came together I loved the finished result.
• Variation #1
This is a hardly noticeable variation but I still want to mention it. The 6" strip along the whole layout has been moved down a little. I always talk about trying to keep balance on the page and moving that piece down was my way of maintaining the balance. With the vertical 4 x 6 and the larger title the layout would have been just a little too top heavy if I kept everything as it is on the sketch.
• Variation #2
Using 2 x 2 photos is one of my favorites. You can get a ton on one page and they will pretty much squeeze into any space. This is a great size for those times when you want to add a lot more photos to a sketch.
By using 2 x 2 photos in place of most the photos on the sketch I was able to include 13 photos on my layout. Today, the combined photo width is the same on both sides of the layout.
This size of photo can be hard to crop out of a 4 x 6 so I order wallet size prints from my local photo processing center. I think most photo processing places have a wallet option. Plus the nice thing about wallet size prints is that it's still the full 4 x 6, it's just shrunken down to a smaller size so you still get the whole picture.
Another option for getting 2 x 2 photos is downloading a software called Photosheet at
www.photility.com
This software allows you to combine several images into a single image. For example, you could put six 2 x 2 photos on a 4 x 6 and print it at home or even upload it to a photo processing center and order prints of it. It's really a great tool for those of you interested in getting some smaller prints.
• Variation #3
I know I say it a lot, but really, you can always alter the sketch to fit the photos you have. I love the picture of Drew with all the mini-pumpkins and instantly knew that I wanted it to be my focal photo. The sketch has a horizontal 4 x 6 as the focal photo but I don't ever let that stop me from using a vertical.
You can always adjust things to make it work, including changing the orientation of a photo. I said it earlier this week, it's only a matter of two inches and two inches isn't a whole lot when you are working on a 12 x 24 space. I had two minor adjustments due to using a vertical photo. The first one I mention in Variation #1 about having to shift some papers down a little. The second one was moving the big swirl across the page closer to that vertical photo, which leads me right into Variation #4.
• Variation #4
You know how I talk about trying not to have too big of gaps between the elements on the page? Well, when I added a vertical 4 x 6 photo it created a gap on both the left and the right because it's two inches taller than the rest of the photos. The gaps were easy to fill by simply moving my leaves and stitching in closer to the picture.
• Variation #5
I really wanted the stitching and leaves to look like leaves blowing in the wind. Like in a cartoon when you can see those wind swirls behind the leaves. That was what I was going for on this layout. I used my Bo Bunny flex ruler to trace the lines onto the page and then added stitching over the top of those lines. I didn't want to add too many leaves and lose the overall look of the stitching so I just added a few here and there.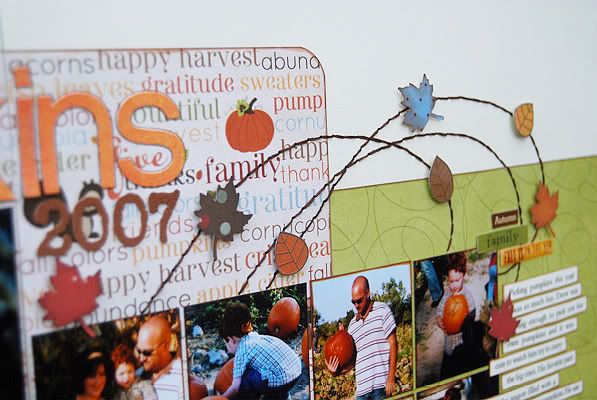 This is where I was talking about it kind of being simplified and kind of not. Adding stitching to me isn't a big deal because I stitch all the time. So it look much simpler to me. I can completely understand though how a non-stitcher would look at it and say it wasn't simple at all.
• Variation #6
Just like the layout yesterday, I moved the journaling to the right of the photos on the right page. I used journaling strips this time so that I could wrap it around the photos and the leaf.
Sometimes it can be tricky using a paper with a lot of words on it behind your title. Most of the time you'll need to use a color that is a big contrast from the colors in the paper. However, you can do like I did on my layout. I used orange alphabet stickers that at first were a little lost in all the colors and words. I used a brown pen to trace around each letter to frame them and help them to stand out more on such a "busy" paper. Not really a variation, just a little tip.
Wednesday's giveaway winner is...
Heather K
said...
I love this page and you are right it certainly doesn't look like it came from the original sketch. Your layouts are an inspiration to really think outside the box.
You can email me at
alidavis1919@hotmail.com
with your shipping information and to let me know which volume of
Sketches for Scrapbooking
you would like.