Day three is another day with a lot of variations yet at the same time it shows you a more simplified version of the swirl across the page. Today's layout is one of those that at first glance might not look like it came from the sketch. As I go through the variations you'll be able to see where the ideas came from and why I changed things the way I did.
The sketch that has been used as the starting point for all five layouts this week.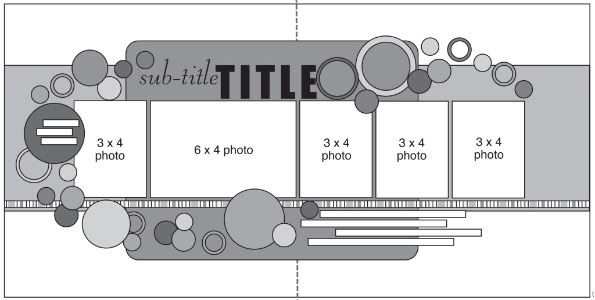 Layout #3 - "First Snow"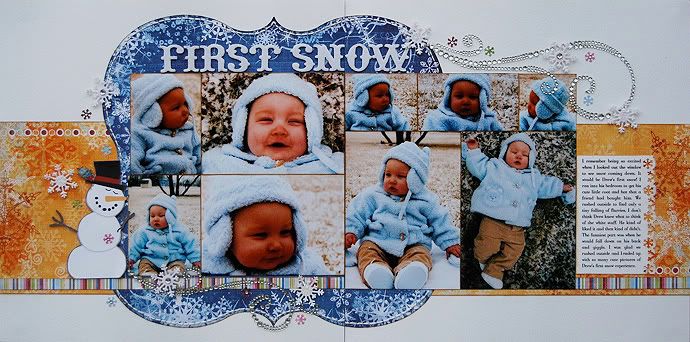 Supply list - Cardstock: Bazzill; Patterned paper: Fancy Pants; Jewel flourishes: Prima; Alphabet: American Crafts; Snowflakes punches: Martha Stewart and EK Success; Glitter accent: Stickles; Jewels: KaiserCraft
• Variation #1
Yesterday I took out the large background piece and today I completely changed it and used a die cut patterned paper. It is a little bit larger than the suggested piece on the sketch but, just like yesterday, because it's not a part of the photo design you can pretty much do whatever you want without having to adjust anything.
• Variation #2
Have you ever had those times when you have an idea and then it ends up taking a completely different direction? That's what happened with the pictures on this layout. I had originally planned on using the same photo sizes as on the sketch with a second row of the same above it.
However, once I started playing around with the arrangement of the photos I was quickly discovering that it just wasn't going to work with the photos I had. I had too many vertical photos that I wanted to work in there too. This is a great example of how you can always adjust the sketch to fit what you have and what you want to use.
I ended up taking a five photo sketch and turning it into nine photo layout by simply widening the height of my photo block. The only big concern was running my title up too high and not leaving enough room for the swirl pattern across the bottom. A few things I did to adjust for those two elements were first, I removed the margins between the photos and second, I trimmed the height of the photos down a little. (For example, I started with a 4 x 6 on the left page and trimmed it down to 3 1/2 x 5.)These small adjustments were enough to allow for those other elements on the page.
• Variation #3
When I added extra pictures and a lot more height to my group of photos it made a big difference in how I was able to do the swirl pattern. I like for the swirl to be fluid and smooth and with a bigger block of photos it would have been a little difficult to do. I ended up throwing the swirl out and went with something a little more simple. I add a jewel flourish on the bottom left page and the top right page to help replace the big swirl across the page.
To add some finishing touches to those I added some snowflakes punched from paper and accented with jewels and glitter. I kept the amount of snowflakes low since there was already so much going on with the extra pictures, the snowflake covered papers, and the big jewel flourishes.
• Variation #4
I also added another larger embellishment to the left page. The snowman was cut from a patterned paper and adhered with pop dots.
This goes for both the jewel flourishes and the snowman - using larger embellishments than what is suggested on a sketch is always an option. You might try to get that large embellishment in the same general area as the embellishment on the sketch and it should work. It might take some adjustments here or there and there will even be those times that it won't take any adjustments, like on my layout. The biggest thing you might want to pay attention to when adding larger pieces is if you are altering the balance of the layout.
• Variation #5
When I added more pictures to the layout it ended up leaving me with very little journaling space along the bottom. My easy fix was to move it beside the photos on the right page. There was plenty of space in that area. I also added a little decorative edge to the journaling block with a border punch.
Tuesday's giveaway winner is...
Gretchen LIndsey
said...
This is a great way to use scraps of paper to punch your circles or even do the long strips of paper. Great ideas, as always!
You can email me at
alidavis1919@hotmail.com
with your shipping information and to let me know which volume of
Sketches for Scrapbooking
you would like.