Day two of Sketch Week brings a lot of variations and not one of them is complicated or take any extra time. It's amazing how simple, little variations can make a big difference on a layout.
The sketch that is the starting point for all five layouts this week.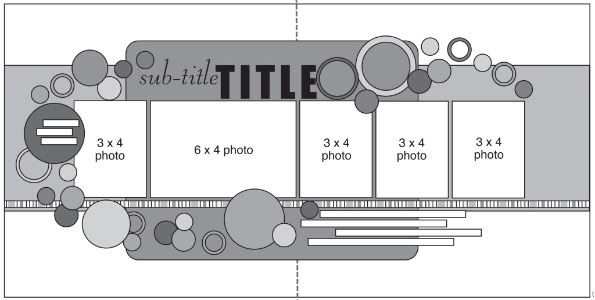 Layout #2 - "Peek-A-Boo"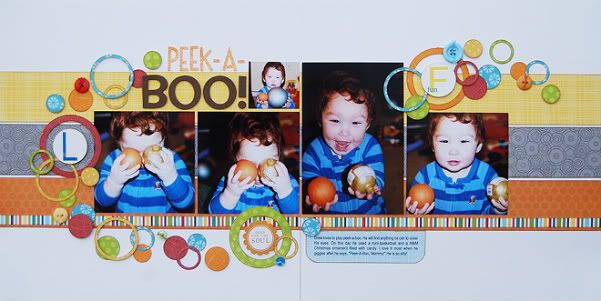 Supply list - Cardstock: Bazzill; Patterned paper: Echo Park, My Mind's Eye, KI Memories, and Bella Blvd.; Alphabet: American Crafts and Doodlebug; Stickers: Creative Imaginations and Pebbles Inc.
While I did follow the circles on the sketch pretty much everything else has been altered. The pictures, the papers, the title, and the journaling are all slightly different than what is on the sketch.
To make the circle rings like on my layout you need two different circle punches in two different sizes. You punch the smallest one first and then center the larger circle punch around the hole that the smaller punch left in the paper. When you punch the larger one you punch out a ring.
• Variation #1
Today's layout is a great example of needing only 4 x 6 photos for this sketch with the exception of the little 2 x 2 photo beside the title.
On the left page I used two 4 x 4 photos which are one of the easiest sizes to crop out of a 4 x 6 photo. All you are cutting off the picture is 2". A lot of times you can get away with cropping one inch off one edge and one inch off the other without cropping out anything important.
On the right page I used a vertical 4 x 6 and another 4 x 4. I used the vertical 4 x 6 on the right page so that I wouldn't interfere with my title.
If I would have used the vertical photo on the left page two things could have happened with the title. The first is that I would have had to remove some of the circles. That seems like an easy option but to get the overall swirl look I thought it needed that little curve of circles at the top. The second option would have been to place my title above the vertical photo. Again, this seems like an easy option but doing this would have left a gap on the right page from the bottom of the title to the top of the 4 x 4. I'm not usually a big fan of gaps in the middle of important elements on the page because it can be so distracting.
Another thing to point out is that, just like yesterday's layout, the combined width of the photos on each side of the layout is the same.
• Variation #2
I already mentioned it above but I also added a 2 x 2 photo beside the title. I had one more picture that I wanted to squeeze in somewhere and this was a good spot for it. It's not taking up too much of the title space since it's so small.
• Variation #3
While I'm on the subject of the title, on the sketch the title stretches in one line across the left page. On my layout, because I added the 2 x 2 photo, I had a little less room for that title. My easy fix was to turn it into a two line title.
• Variation #4
A big difference in this layout and the sketch is the absence of the background rectangle. Since I wanted to have so many colors in the circle swirl and used multiple strips going across the page, I removed that piece so it wasn't color overload.
One thing to remember about background pieces that aren't a part of the photo design, you can always remove them without needing to make other adjustments to rest of the page. There isn't anything on this layout that relies on that background rectangle so removing it was easy.
• Variation #5
On any sketch that you use, if you are looking to add more papers, breaking up one piece of paper into multiple pieces is a great solution. On my layout I replaced the 12 x 6" pieces with three 12 x 2" pieces. This is so easy and you can do this with any piece on a sketch.
You can even get into different shapes other than altering the strips. Like maybe a using six 2" squares in place of a 12 x 2" strip of paper. Or you might try turning a square piece into a lot of smaller strips. There are tons of possibilities!
• Variation #6
I love journaling strips but one great thing about this sketch is that the area designated for the journaling is open for any format. Sometimes you might get stuck with using journaling strips because of space restrictions or other elements on the page that you have to wrap around. Because this sketch has a big open area for the journaling without any other elements interfering, you have lots of options.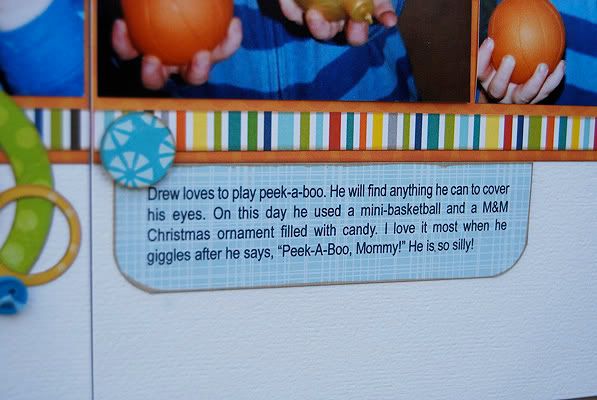 I used a simple journaling block with rounded corners for mine.
See, all of those variations were fairly simple yet it all contributed to a different looking layout.
Day two means that it's your second chance to win a copy of Sketches for Scrapbooking!
The Monday winner is...
AmyBug
said...
Wow! I love those sprinkling of stars. The added stitching is great too.
You can email me at
alidavis1919@hotmail.com
with your shipping information and which volume you would like.