Sometimes it's not exactly the picture you are looking for that makes you laugh the hardest.
The boys were hanging around the Christmas tree talking about what ornaments were their favorites. Talking mostly consisted of Drew telling me his favorite and Jackson yelling, "Nooooo! That mine!"
I grabbed my camera in hopes to catch a sweet picture of the boys looking at the tree. I swear the boys are equipped with some sort of sixth sense. A Mom's-got-the-camera type of sixth sense. Clearly, my camera was not welcome...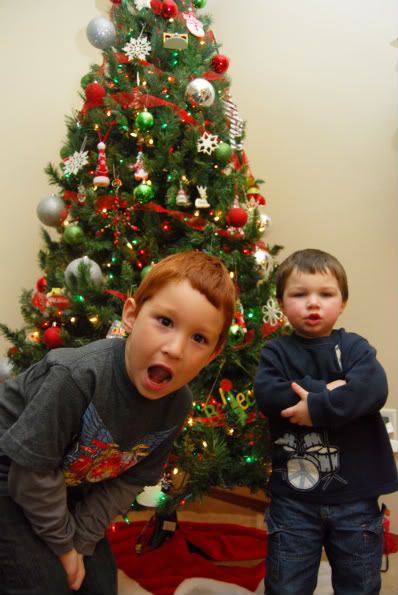 Instead of that sweet moment I got something that ended up looking more like a picture from a hip hop album. I couldn't help but to giggle when I was downloading my pictures and saw this one. I was so tempted to use this as our Christmas card picture with some cheesy line like "Yo, Yo, Yo. Merry Christmas!" but figured our grandparents probably wouldn't understand what in the world it meant. (I spent at least an hour trying to explain what our sketch books where to my Grandpa and I'm almost certain that he still thinks they are coloring books for scrapbookers.)
This picture might not make it on our cards but it is definitely going to be one of my favorites this year.