On Monday we took full advantage of the larger space in our new classroom. We were in a mad dash to get most of our kits packaged and shipped before the Snowpacalypse hit us. Kits stretched across table after table, boxes being folded as fast as possible, packaging, labeling, and then stuffed into the back of Karin's vehicle just in time. What a day!
On my drive home from the store I heard on the radio that a blizzard warning had been issued. Seriously? I had no idea there was such a thing. The warning, not the blizzard. After the terrible ice storm we had a few years ago I was not looking forward to what was ahead. A trip to the grocery store proved I wasn't the only one. The aisles where empty. Eerie empty. Bagels for sandwiches and Mini Buzz Lightyear flash lights were going to have to do.
We woke up Tuesday morning to the snow coming down. All day we would peek out the back door and to see how high the snow was on Drew's soccer ball that he had left out there over the weekend. We watched it quickly disappear under the snow. Jackson had a minor panic when he notice his dump truck was buried.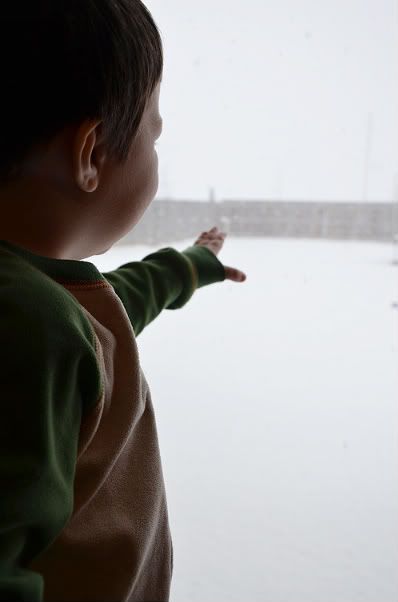 His panic over the truck lasted about two seconds when he realized just how much it was snowing. We then went from panic over his truck to panic over wanting to go outside in the snow. He would have stood in the doorway, with it freezing cold and watched the snow all day if we would have let him.