It's all my mom's fault. We had an emergency "have to make a bajillion mini-cupcakes in one night" for an event at the store. I had a blast coming up with different flavors and studied up on how to make the cute little swirl of icing on the top.
I have cupcake fever. And it's spread into my scrapbooking and sketches too. Last week at Sketch Support we worked with a cupcake add-on sketch. Now I have "making cupcakes with scrapbooking supplies" fever. See below.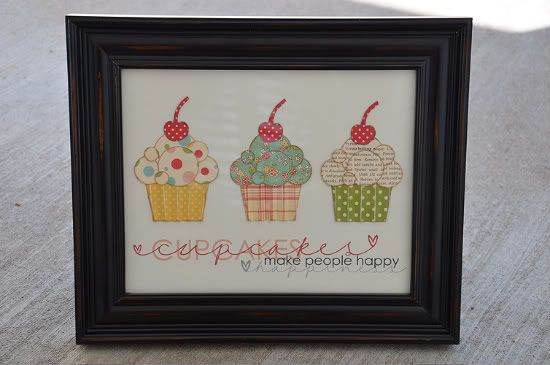 I figure if I love how my kitchen looks, I'll love cooking in it. I love baking. Cooking dinner? Not so much. This cupcake frame is the first addition to my super plain kitchen. The boys don't like this in our kitchen. They want to know why I'm wasting time on paper cupcakes when I could be making edible ones like on my layout below.
On this layout you'll see some of my favorite cupcakes I've made.
Chocolate lovers.
Chocolate, topped with chocolate, topped with chocolate. What better to top chocolate with, than more chocolate?
Lemon supreme.
My favorite lemon cake recipe from my Grandma transformed into a cupcake and topped with a little bit of lemon glaze and lemon icing. (These are my favorite!)
Red velvet

Valentines

.
Red velvet cupcake with butter cream icing and heart sprinkles.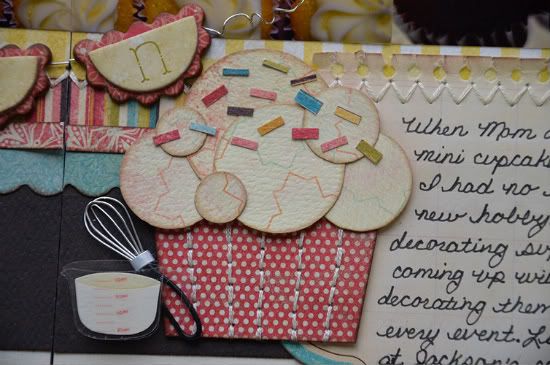 My Mind's Eye cupcake.
Stitched cupcake liner and punched patterned paper circles topped with paper sprinkles. Easy to make and calorie free! Which makes it my favorite one on the layout.
••••••••••••••••••••••••••••••