I have tried several times to do the whole picture a day thing. I'm was lucky if I made it ten days and to be honest there were a few days of "cheating". (I would forget to take the picture one day and then double up the next day.) Most nights I would be laying in bed half asleep and realize that I didn't take my picture for that day. Me and a picture a day just didn't mix. I officially gave up and decided not to attempt it for 2012.
I did, however, decide to attempt writing one line (or two) about each day for the next five years.
'Cause that sounds easier, right?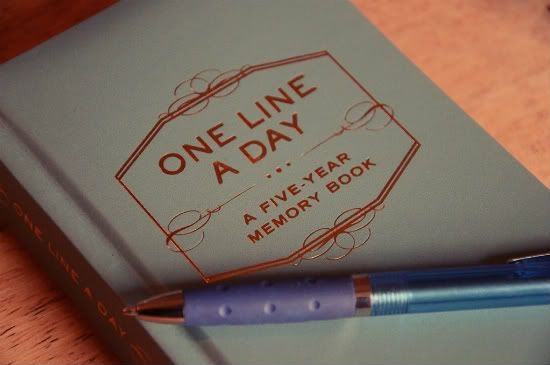 My mom got me this book last year for Christmas and I instantly loved the idea. Then January first rolled around and I had forgotten to start. I stumbled across the book mid-December and decided I would start with it this year.
The book is described as: "A condensed, comparative record for five years, for recording events most worthy of remembrance."
There is a page for everyday of the year with five spaces on each page, one for each of the five years. I like this so much better than a picture a day and have been keeping up with it every single evening. It's easy to have the book and a pen sitting on my nightstand waiting for me when I go to bed. It's also quite enjoyable to think back over the day and remember what the best parts were. Most of it ends up being the small things that I never would have remembered a year or two down the road. Things that a picture just isn't enough to tell the story.
My favorite day so far? January 9 - We were driving to school and the boys were singing along to "Rumour Has It" by Adele in the car. (They love that song!) At one point Jackson yelled at Drew, "Stop singing it that way! It's BOOMER has it!" It was hilarious!
•••••••••••••••••••••••