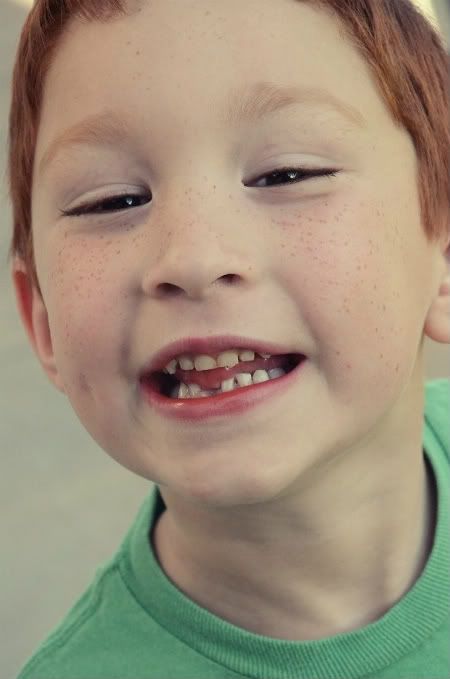 It all began with a bite of pizza that instantly brought his hands to his mouth.
"Ouch!"
he said. We knew then and there that this was the beginning of the loose tooth journey. For days he wiggled and wiggled and wiggled until the tooth would lean forward in quite an unusual way.
Then, early one morning (way too early for my taste) he ran into our bedroom,
"It's bleeding!"
and as quick as he came he was gone again into the bathroom. Five minutes later he ran into our bedroom and screamed,
"It's out! My tooth is out!"
It was hilarious!
Drew was so proud and couldn't wait to show everyone. He would say
"Look at my loose tooth!"
and open wide to show the small space where the tooth once sat in his mouth. We explained to him that technically they couldn't look at his loose tooth anymore because it wasn't there. That was when he came up with calling it his gone tooth.
"Hey, look at my gone tooth!"
he says.
That night he put his tooth under his pillow with much excitement. After a brief argument between Mike and I over the going rate for a tooth these days, the tooth fairy made a visit.
•••••••••••••••••••••••••