I strongly believe that sketches are a great tool for any scrapbooker. Beginner or advanced, it doesn't matter. What it all boils down to is that sketches save us time and take out the headache of trying to figure out where to put all the elements. A beginner may follow the sketch down to every single measurement and placement while an advanced scrapbooker might use it as more of a starting point and then add their own touches here and there. Either way, sketches are a tool that everyone can benefit from.
What I'm showing you over the course of this week is how to take one sketch and use it multiple times. By making simple variations you can use the same sketch over and over and each layout will look completely different.
This is the sketch I'll be using as my starting point for all four layouts from
Sketches for Scrapbooking, Volume 5.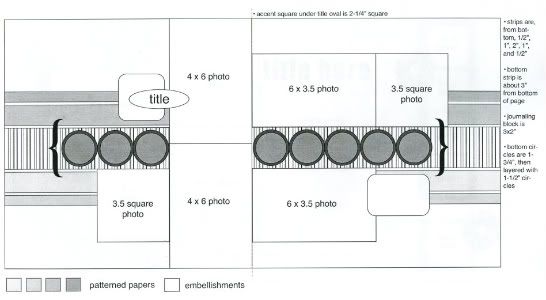 On this sketch one of the elements that really stands out, aside from the pictures, is the line of embellishments (circles) across the middle. This is where a lot of my variations over the four layouts takes place. This line of elements can easily be altered to fit any theme and would work with virtually any pictures.
Layout #1 - Direct Copy (almost)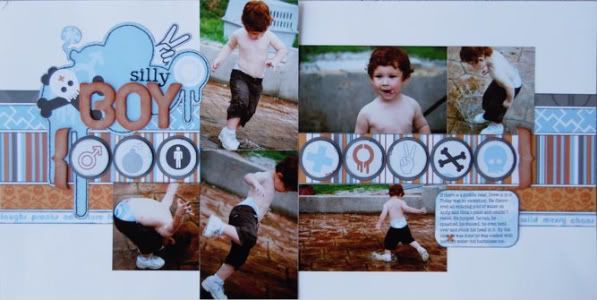 Patterned papers (including the cut out design behind the title, the circles, and the journaling block)

- KaiserCraft,

alphabets

- Doodlebug Designs and BasicGrey
Okay, I should probably explain that with a little more detail than just "almost." I always look at a sketch as a suggestion. If there is a 1/2" strip of paper, I might use a scallop strip or a torn strip. If there is a circle embellishment, I might use a star or a flower.
On this particular sketch there is a square underneath the title. I ended up using a large design cut from a piece of patterned paper.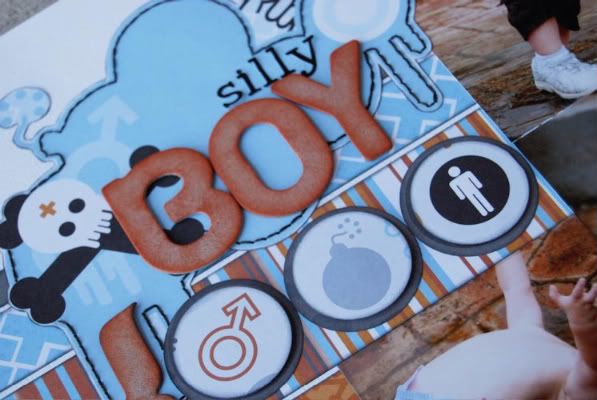 Sure it's a lot bigger than the suggested square but, in my opinion, it doesn't matter. All that matters is that the sketch suggests using an element in that general area of the page to help balance the overall look of layout.
Since this week is all about using sketches I thought it would be fun to do a giveaway! I'll be posting everyday, Monday-Thursday, with a layout based off the same sketch. All week you'll have a chance to leave a comment and on Friday I'll post the winner who gets a copy of Sketches for Scrapbooking (Volume choice is all yours.) You can leave more than one comment through the week to be eligible but not on the same day. :)
Be sure to check back tomorrow for layout #2!