My starting point, the sketch I'm using from
Sketches for Scrapbooking, Volume 5.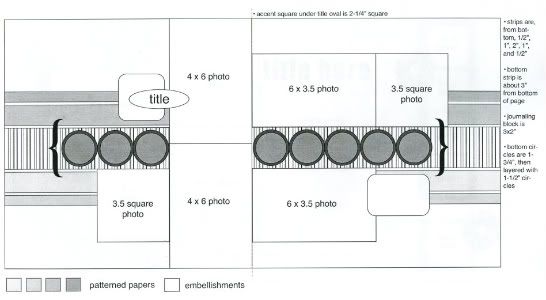 Layout #2 - "The Perfect Costume"
Patterned papers (including the pumpkins), cardstock spider

- My Mind's Eye,

alphabets

- Doodlebug Designs and My Little Shoebox,

word stickers

- Making Memories and Scenic Route
On this layout I did a few variations.
• Variation #1
- Probably the most obvious change is the center line of embellishments. This layout really shows one of my favorite things to do on my pages. I
love
making my own little handmade touches. I really want to say that it's me putting my heart into my layouts so that my boys will appreciate it down the road but honestly, they're boys. I'm not sure if they are going to be too excited about my scrapbooks or my handmade touches. I think the real reason why I love adding handmade touches is simple, when it comes down to it I just like to make stuff.
I made each of those pumpkins going across the middle strip from scratch (except for the smiling one. That one is a die cut.) To do that I hand drew each one and while doing that I didn't worry about them being perfect. I wanted them to resemble real pumpkins and I've yet to see many pumpkins at the patch that were perfectly round. After I cut them out I added hand stitching and stems. On some of them I added craft wire with loops by the stems.
You can get a closer look at them in this picture.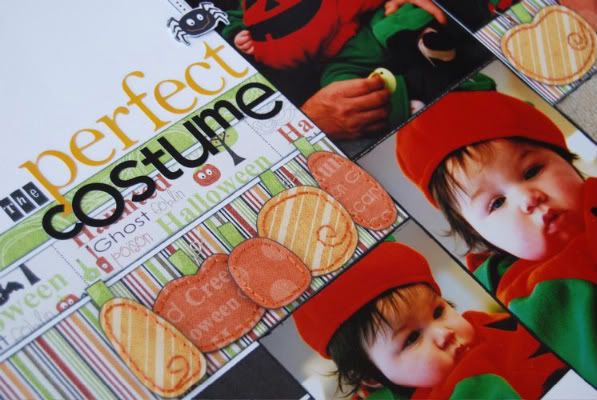 • Variation #2
- You also might notice in the picture above, the cute little spider above the title. Again, I replaced that square behind the title with something a little different. This time the element is quite a bit smaller than the square on the sketch but like I explained in the last post, it's all about taking the sketch as a suggestion. As long as that element is in the general area, it's going to work.
• Variation #3
- I added some smaller photos in place of one of the 6" x 3.5" pictures. Together the three photos are still in the same 6" x 3.5" block. This is a great solution for those times when you have more photos than the sketch calls for. I was able to add more photos without altering the photo placement on the sketch.
• Variation #4
- Instead of using the journaling block, I decided to use individual word stickers for my journaling. Doing this or journaling strips is a super easy way of adding a different look to the layout.
The giveaway is still going on today. Everyone gets a second chance at winning a copy of Sketches for Scrapbooking! (Even those that posted yesterday.)