Here we go with layout #3. :)
The original sketch that I'm basing my layouts off of from
Sketches for Scrapbooking, Volume 5.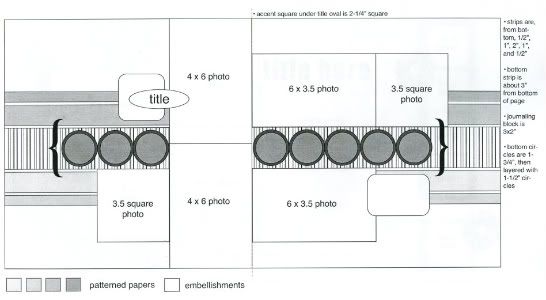 Layout #3 - "Christmas Card Photos"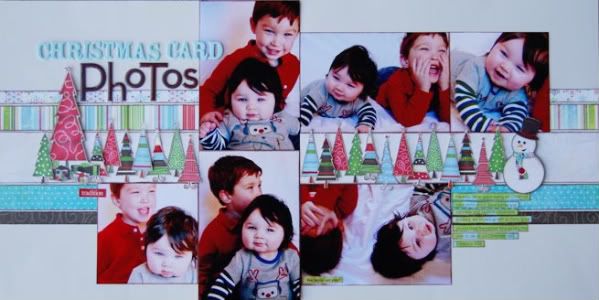 Patterned papers (including the Christmas trees, snowman, and journaling strips)

- BoBunny,

alphabets

- American Crafts and Making Memories 
Just like layout #2, this one has a several variations.
• Variation #1
- Of course, the biggest change is, again, the middle section of embellishments. This time I cut all those little trees from a piece of patterned paper. To add a finishing touch I added some Stickles to a few. I also have them all adhered to the page at different heights by using foam adhesive. I tend to get a little pop dot crazy and sometimes probably go a little overboard with them. I personally think it's a great and easy way to make certain elements stand out.
• Variation #2
- The larger tree sitting with all the smaller ones is the element that I used instead of the square on the original sketch. Just like the last layout, it's not in the exact spot as the square on the sketch. After I added the title, the taller tree was a perfect fit and it's still close enough to the general area of the square that it serves it's purpose, to add balance to the layout.
• Variation #3
- One thing we include on our sketches in Sketches for Scrapbooking is a little key/guide to help you with picking out the right papers. On the sketch for this layout the middle strip is suggested as a stripe. I decided to use a solid color instead since the multiple colors of the Christmas trees would have most likely gotten lost in the colorful stripe, especially since some of the trees themselves are striped.
• Variation #4
- You might not notice it right away but I went with different photo sizes than on the sketch. I almost always work with 4" x 6" photos. Most of the time if I have cropped photos they are cropped from a 4" x 6" print. With this set of pictures there really wasn't a lot of room for cropping. Since the photo measurements on the sketch are only 1/2" difference I decided to leave them as 4" x 6" for the larger ones and on the photos that are supposed to be a 3 1/2" square, I instead cropped them to a 4" square.
• Variation #5
- Yesterday I had mentioned using journaling strips and on today's layout I did. I really like the look of journaling strips because you can use them in so many ways. You can have them all the same length or for fun, all different lengths. You can add them to the page in a straight formation or you can "wrap" them around something on the layout. I tend to use them a lot!
A new day means a clean slate for the giveaway entries! :)