The last one of this series. I'm kind of sad, this has been fun!
The sketch that all of my layouts have been based off of from
Sketches for Scrapbooking, Volume 5.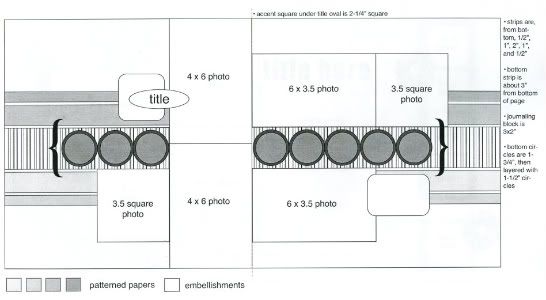 Layout #4 - "My Happiness"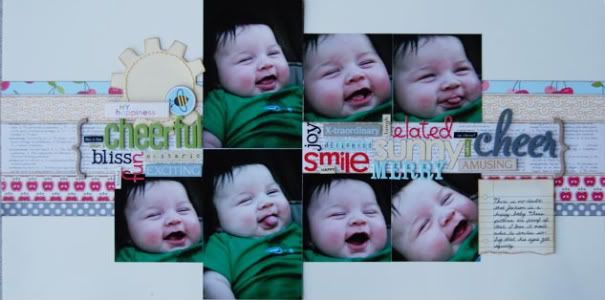 Patterned paper, bee sticker, title sticker

- October Afternoon,

alphabet and word stickers

- Doodlebug Designs, American Crafts, SEI, Cloud 9 Designs, 7Gypsies, My Little Shoebox,

journaling card

- Jenni Bowlin
• Variation #1
- Just like layouts 1, 2, and 3, the biggest change from the original sketch is that middle line of elements. Making a collage of words like that can be a little challenging and intimidating but once you get a few down it gets easier and they all start to go together like puzzle pieces. 
I pulled out several different colors, sizes, and textures of alphabets. I think it's easiest to start at the edge of something, in my case, I started with cheerful (to the left of the 4" x 6") and then filled in words around it. The smaller word stickers were my "filler" pieces. If I had a small space that I couldn't fit alphabets stickers into, I used the word stickers instead. You can get a closer look at in the picture below.
• Variation #2
- This time I actually did use an element behind the title. It's a little larger than the square on the suggested sketch but works nicely in that space. Another thing I might add, the sun is actually supposed to be a gear wheel mini-album page. I tend to use chipboard mini-albums on my pages more than actually making a mini-album out of them. The work great for extra large embellishments.
• Variation #3
- On the last layout I didn't use a stripe for that middle strip because I didn't want the colorful Christmas trees to get lost in it. The same goes for this layout. Using a strip for that middle piece would have made those words hard to read. The newspaper print patterned paper worked great because the the words on it are small and all one color.
• Variation #4
- I really changed up the photos this time. The two 4" x 6" photos are the same as the sketch but the rest are completely different sizes than the ones suggested. With these photos I had a lot of empty space around Jackson's head so I thought they would all look better cropped down to just his face. Cutting them all down to 3 1/2" squares kept the focus on his cute smiles and not the empty space. I could have even cropped the two 4" x 6" photos down to 3 1/2" squares and that would have worked well too but the major drool trail down Jackson shirt always makes me laugh.
• Variation #5
- The journaling piece on this page is from a pad of cute little notebook and ledger type journaling pages. It's a little larger than the suggested size for the block but I don't ever worry too much about that. I never try to squeeze my journaling into a smaller space. I always see the journaling placement on a sketch as just that, placement. I hardly ever worry about the size and instead put my focus on the story I want to tell. If it ends up taking up a little more space than the sketch recommends, I'm okay with that. To me the layout's main focus needs to be the pictures and the story. And I'll always make room for that!
Last day for the giveaway! Be sure to check back tomorrow to see who the winner is! :)