Here we go with day two of
Sketches Week
!
The sketch, from
Sketches for Scrapbooking, Volume One
. My starting point for each layout this week.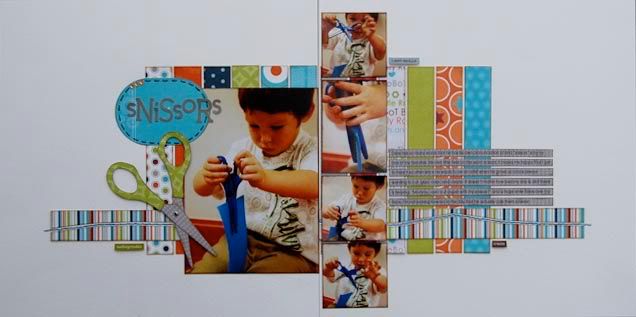 Supply list -
Cardstock:
Bazzill;
Patterned papers:
My Mind's Eye;
Alphabet stickers:
KI Memories;
Word stickers:
7Gypsies;
jewels:
KaiserCraft
• Variation #1
- One of the most noticeable changes on this layout is the background pattern papers. Instead of using four 3" x 7" strips I decided to break them up into twelve 1" x 7" pieces. Breaking up strips on a sketch is a super easy way to alter the look of the sketch without really changing a lot.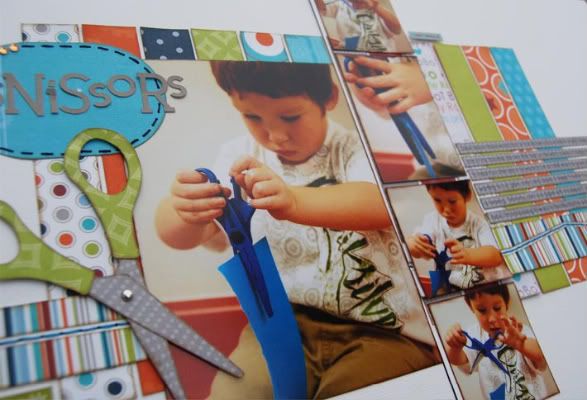 • Variation #2
- I almost always use wallet size photos when I have a sketch that calls for 2 1/2" or smaller photos. They are the perfect size since they measure 2 1/2" x 3 1/2". On this layout the second picture from the top wasn't going to look right cropped down. I was either going to be cropping out Drew's hands or part of the scissors. The photo fit in well since the width is still 2 1/2" like the other three.
• Variation #3
- Instead of using the three groups of circles on the page I opted for simple word stickers. Since I broke up the background patterned papers into smaller pieces and there are more patterns I wanted to keep those embellishments very simple.
• Variation #4
- The scissors took the place of the flourish on this layout. They are a lot taller than the flourish on the sketch and they end up overlapping into the title area but, like I always say, it's still in the general area of where the flourish on the sketch is and that is all that matters.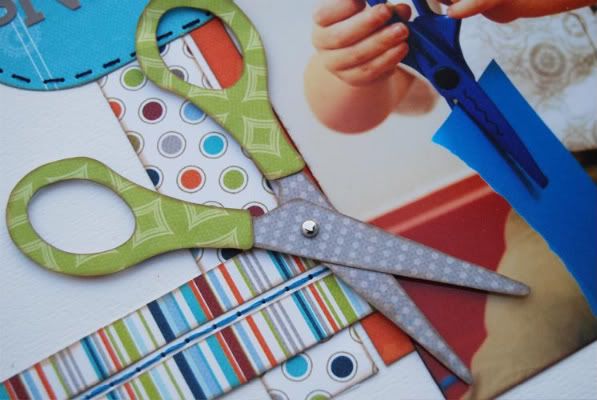 One thing you might know about me is how much I like to make my own embellishments. While I love all of the cute, pre-made embellishments that you can purchase, when I come to a point of needing something uncommon I don't let the fact that I can't find a pre-made embellishment for that specific theme stop me. To make these scissors I simply traced around my own scissors onto patterned paper. After I cut them out I adhered the pieces together, added a brad to the center and added it to my page.
• Variation #5
(kind of) - While Jackson may be a little too young right now to help me with my scrapbooking, Drew is at that perfect age where he gets so excited to be my little assistant. Since this page is about Drew and his "snissors", I had him take the two 1" x 10" striped strips and cut them in half lengthwise.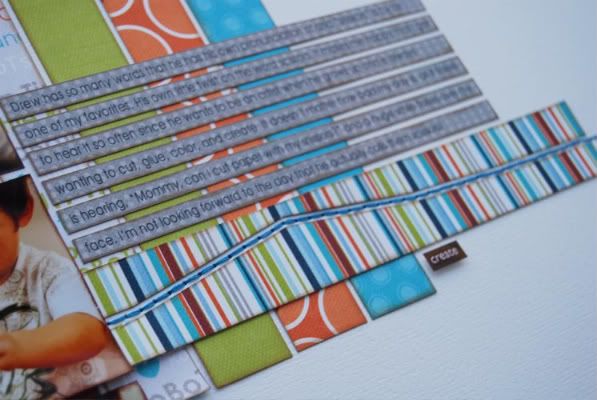 When I adhered the strip to my page I left about a 1/8" space between the cut pieces so that you could see his cutting line. I also added a stitched line in the middle to help it stand out a little more.
The giveaway is still going on today. Everyone gets a second chance at winning a copy of Sketches for Scrapbooking! (Even those that posted yesterday.) :)