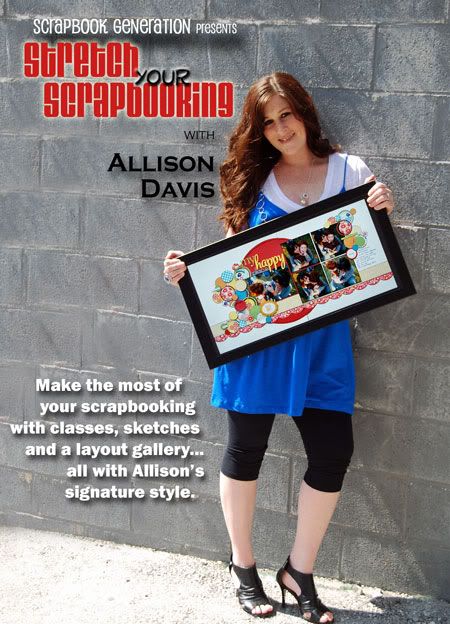 I'm so excited to show you all the cover of
Stretch Your Scrapbooking!
I love the way it turned out. Stacey did such a great job designing everything.
Trying to find the right day to do the photo shoot was a bit of a challenge. We were having awful weather, rainy, freezing, snowy, etc. Finally we had a beautiful Friday afternoon come our way and we jumped at the chance to get the pictures done. And we didn't have to jump far. This is actually a wall right behind Scrapbook Generation.
I will admit, it's going to be weird to actually see a DVD with my picture on the cover. Just like it's weird for me to hear my own voice. Drew was a little sad that he didn't get to pose with me. I tried to explain that his picture was on the layout that I was holding but that wasn't cutting it. He wanted to be front and center, as usual! The cover would have probably been a little cuter with his adorable grin but we figured since it says "with Allison Davis" it might be a little confusing.
Be sure to check back later this week. Next up, a clip of the DVD.