Have I ever introduced you to our dog Chewy?
The dog that just a year ago I was so ready to get rid of.
The dog that was living up to his name and chewing everything he could get his teeth on (including our house!)
The dog that was giving me a constant headache.
The dog that reminded us so much of Marley in Marley & Me that we were scared of what we had gotten into.
The dog that made us say, "NO MORE DOGS!"
It's funny what a difference a year makes.
It's amazing to me how a dog that was driving us insane has now grown into such a wonderful addition to our family. I seriously thought there was no hope for that dog but then I started to grow a soft spot in my heart for him the first time I saw him "protect" Jackson. He watches and follows Jackson in the backyard and anytime Jackson gets close to things that he shouldn't Chewy will actually herd him away from it. He will even stand in front of things that he doesn't want Jackson climbing on. Jackson of course loves him and Chewy is so gentle and patient with him. It is such a cute thing to watch.
If you are going to be in the Springfield area on
Saturday, May 1
be sure to stop by Scrapbook Generation for our National Scrapbooking Day festivities. Here are a few things we'll have going on:
• Stacey and I are doing
free mini-classes
all day. This is the card that I'm doing as my mini-class.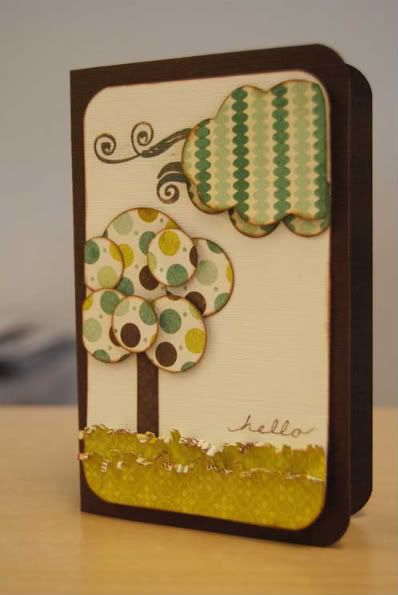 You'll learn how to make your own simple embellishments with papers (the tree, the grass and the cloud) and how to use Perfect Pearls. No need to call and sign up, we'll be doing them all day. It's a first come, first served basis.
•
A chocolate buffet!
I'm too hungry right now to go into too many details about all the wonderful treats we'll have but trust me it will be good!
•
Appreciation Gifts:
Make a purchase of at least $25 and receive a special-edition SG page kit, a $12.99 value.
•
Super-Saver Scrapbooking Sessions:
Make three-double-page layouts for $5, and get a free set of chipboard letters.
(Sorry -this activity has been sold out for a month -- 102 people!)
•
Prizes:
Door prizes will be awarded during the Super-Saver sessions and at the end of the day.
•
Special Sale:
Watch for the ever-popular 30 and 40-cent paper bins. Other items will be marked down up to 80 percent.
•
New Paper Collections:
the 50 new paper collections that debuted at Scrapmania will be everywhere!
Hope to see you there! :)