I am surprised that my hands are even working right now. In one day I had to punch about 2,000 circles in preparation for our National Scrapbooking Day celebration at Scrapbook Generation. The last few that I had to punch my hand and wrist were both hurting so much that I didn't think I could possibly punch one more circle! But I pulled through and all with love for the scrapbookers that will be lining up for our free mini-classes on Saturday. :)
Last Saturday while teaching a class at Scrapmania, somehow the subject of racing came up. It was entertaining to talk about it because I don't think anyone in the class knew that I used to race. There I stood in my dress trying to explain that I really did play in the dirt. They were probably looking at me with the same confused look that our old racing buddies would give me if I ran into them and told them I scrapbooked.
That conversation reminded me of this layout about mine and Stacey's adventure into the dirt track racing world.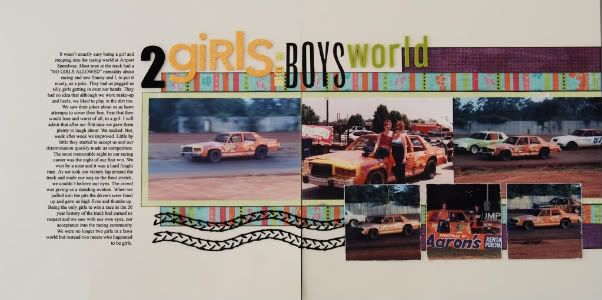 • as seen in Creating Keepsakes magazine
The years that we raced were truly some of the most memorable moments in my life. So many stories, some funny, some scary, and some just down right crazy! Like the time we had a man, a grown man, walk up to us and tell us that when the green flag flew he was going to put us in the wall. Hello! Can you say scared to get beat by a girl syndrome!
Or how about the time that we had a five car pile up in front of us and somehow we were the only car that managed to make it through without a scratch,
Or how every time while we were in line up waiting to go on the track we had a ritual of giving our car, Eugene, loving pats and rubs for good luck,
Or that when we went to our first race out of town the boys laughed at us when we pulled into the pits. All it took was us jumping in the car, turning it on and revving the engine for them to shut up.
It was a great experience to do something that wasn't expected of us strictly because of our gender. Something that people said we couldn't and wouldn't do. It was an experience that I am very proud of to have had. It was my "Girls Rule!" moment.