I thought it would be easier to break up the About Me post into two parts. One more random and personal and the second more scrapbook related.
A little background first.
I was born and raised in the small town of Mansfield, MO., the place where Laura Ingalls Wilder wrote her Little House books. I started writing at an early age mostly due to my mom, the High School English and Journalism teacher. (I wish I still had a copy of my first book. It was about New Kids on the Block and had some lovely drawings to go along with the story.)
I won a lot, and I mean a lot lot, of writing contests growing up. It was pretty clear that writing was something I loved to do. Being a teacher's kid kind of made it not so much fun. Since I won a lot I had to hear all the time, "She only won because her mom is a teacher." None of these people seemed to notice that I won at contests held outside of our school too.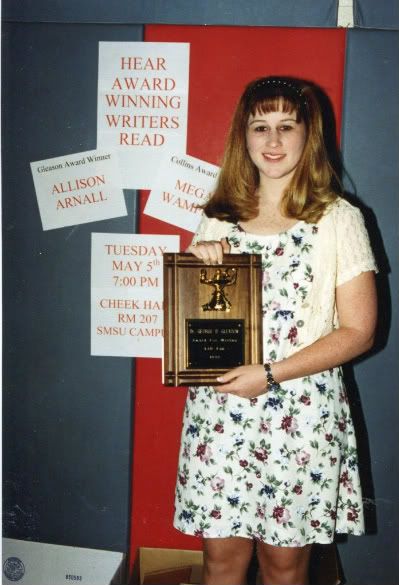 In High School I was editor-in-chief of our High School newspaper and also worked on our Yearbook. It wasn't until a few years ago when I first started scrapbooking that I realized how much doing the Newspaper and Yearbook taught me about designing.
After I graduated High School I started college but didn't finish. That is one of my biggest regrets. I wish so badly that I would have known, like I do now, just how much I loved writing, designing, and photography. I think if I could have zoned in on that stuff a little I would have excelled in college.
Now if I haven't bored you yet and you are still reading, here is the question portion:
1. Favorite color?
Drew always replies to this question with, "I am an artist and artists don't have favorite colors. They love all the colors the same." While I don't think I can technically be called an artist, I couldn't agree more with his answer. Ask me one day and I'll say purple. Ask me the next and I'll say yellow or red or green.
2. Favorite TV show?
I am a reality TV junkie. Instead of watch our local news I watch E! I love So You Think You Can Dance, Biggest Loser, Tori and Dean Home Sweet Hollywood, Kendra, The Soup, Chelsea Lately, Big Love, Project Runway, Jersey Shore (I wish I was kidding on that one but it's like one big train wreck that I can't turn my head from. Other train wrecks on MTV - The Hills, Teen Mom, and 16 and Pregnant. ) I wish I had more time to watch some TV but it's just not something I do often. I never really watch any of those shows every week. It's whenever I happen to catch them on.
3. Favorite flower?
The kind that come in a big, sweaty wad from the hands of my boys. I remember the first time Drew picked me flowers. I almost cried! Jackson just picked me a flower the other day and said, "Fwower. Mommy."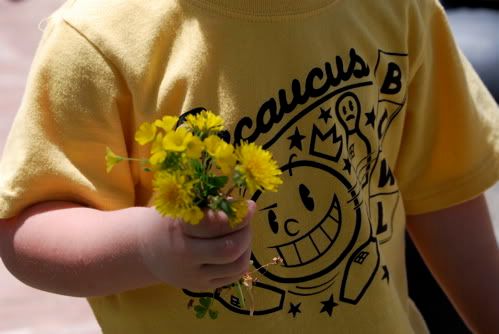 4. Favorite book?
I loved the Twilight series a lot. (Go Team Edward!) I would have to say that my favorite types of books are true crime. I must have inherited some weird gene from my Mom because she loves them too. I really don't know why I like them so much. I have no plans to commit a murder nor do I really like the thought of gross crime scenes. I think it's getting a peek into how crazy people work or maybe learning how they do investigating and that sort of stuff.
5. Favorite food?
Anything Italian. I could eat Italian food every single day.
Speaking of favorite foods I also love this recipe that I promised to post a few weeks ago and forgot.
Hot Bean Dip
• 1 (8oz) package cream cheese, softened
• 1 cup sour cream
• 2 (16oz) cans refried beans
• 1/2 (1oz) package taco seasoning mix
• 5 drops hot pepper sauce
• 2 tbsp. dried parsley
• 1/4 cup chopped green onions
• 1 (8oz) package shredded Cheddar Cheese
• 1 (8oz) package shredded Monterey Cheese
1. Preheat oven to 350
2. In a medium bowl, blend the cream cheese and sour cream.
3. Mix in the refried beans, taco seasoning, hot pepper sauce, parsley, green onions, 1/2 the cheddar cheese and 1/2 the Monterey cheese. Transfer the mixture to an 8 x 12 backing dish. Top with remaining cheeses.
4. Bake for 20-30 minutes until cheese is bubbly.
Trust me you take this to an event and it will be requested to bring again and again. I always get "Hey Allison, bring that dip stuff!"
6. Favorite sport?
I don't think there would be much surprise if I said racing. I think I was born with a love for it.
7. Favorite season?
Summer! I love BBQs, strawberry shortcake, sitting on the back porch in the evening, 4th of July, long days, swimming...
8. What do you do for downtime and for me time?
I don't really get a lot of downtime or me time other than through the night when I sleep. I would say taking a nice long soak in a bubble bath but this is usually with the door open and the air is filled with "Mom! Jackson is pulling my hair!" or a big thud, most likely by Jackson falling off of whatever it is he tried to climb, followed by a cry.
So for this question I'll tell you what I would do if I had that time.
I would hang out with my sister more.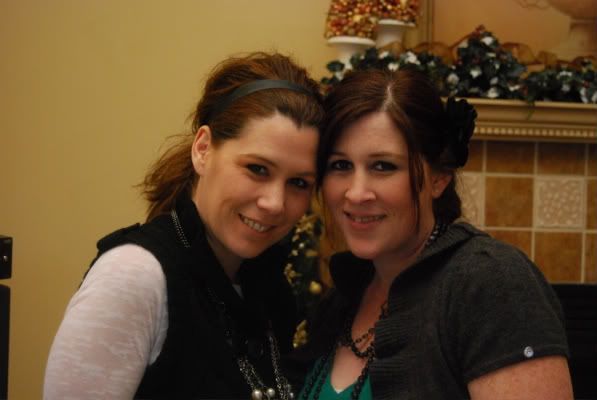 It's not like we don't see or talk to each other often but I miss the days (pre-kids) when we used to sit outside and talk for hours. We always entertain each other with the stupidest conversations and end up laughing hysterically. I'm so lucky that she is my sister and the fact the she is also my best friend well, there just aren't words for it.
I would also would love to maybe take piano lessons, cake decorating classes, and photography classes. Anything I could do to learn more. And have date nights with Mike more often. Right now we have one about every three months.
Here are some random things about me:

• I once got stuck in an escalator in a major department store.
• I'll be 30 on July 18. Eek!
• I'm afraid of the dark.
• I hate odd numbers.
• I can't spell to save my life.
• I eat too many potatoes.
• I miss my Dad more that I ever thought possible.
• I hate the word panties.
• I'm terrified of flying.
• I don't cry during sappy movies.
• In second grade I handcuffed a boy to his desk.
Goodness that's a lot about me! Now I want to know about my blog readers! In the comments, post five random facts about yourself and I'll choose one to win a copy of Sketches for Scrapbooking (Volume choice is all yours!) I'll post the winner on Monday.
I'm also still working on the About Me-Part Two so if you've got a scrapbooking related question you want to ask me, there's still time to ask. :)
Have a great weekend! :)