I'm so sorry about the delay in posting. Blogger has been down since last night. I'm at work at the store right now and don't have the info for posting the giveaway winner from Friday so I'll add that to this post when I get home this evening.
Sketch Week this month is back to it's normal self after the extreme version last month but I promise you won't be disappointed!
After giving it some thought and each month wanting so much to do more for the readers of Sketch Week (your comments each month are so thoughtful and sweet!) I've decided to have a different sponsor each month. I've already got the next three months of sponsors on board by three of my favorite manufacturers and ones that I know you'll be excited about too.
So, introducing Sketch Week's first sponsor
Nikki Sivils, Scrapbooker!
Nikki has put together a great prize package to giveaway to my blog readers this week (picture to be posted this evening!). You can check out her
blog
,
website
, and don't miss the awesome
gallery
of her design team's beautiful creations. And I've got a layout I'll be posting later this week using her "Dan the Record Man" line that I absolutely love!
Let the Sketch Week fun begin!
The sketch that I'll be using from
Sketches for Scrapbooking, Volume 2
as a starting point for all five layouts this week.
Layout #1 - "Time Changes Everything"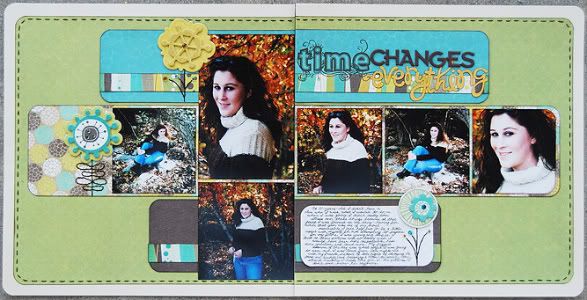 Supply List - Cardstock: Bazzill; Patterned paper: Crate Paper; Alphabets: BasicGrey (changes) and Doodlebug (everything); Rubon: Crate Paper (time); Chipboard elements: Crate Paper; Jewels: KaiserCraft
The other night I showed Drew all of my layouts for Sketch Week and he pointed to this layout and said, "This one is my favorite!" I asked him why and he simply said, "Because it's about you Mommy." It was a great reminder that I really do need to create more pages about myself. It was also a great reminder to get in there and finish my album from Scrapbook Generation's "Remember Me" kit club. I signed up probably two years ago and have only done the title page!
Variation #1
- For a slight change and little more color on the layout, I added a green patterned paper background cut with 1/2" margins so that you could see a little of the french vanilla cardstock around the outer edges. I also added a stitched border around the edge.
Variation #2
- This isn't really a variation from the sketch but I wanted to share a simple way that I altered letter stickers to match the color of the papers. I wanted the everything to be a script letter and I wanted it to match the yellow in the patterned papers. Of course, yellow (and orange) happen to be the color that I have the least to choose from. I loved the script of the Doodlebug letter stickers but didn't have them in the right color so I simply painted over white ones.
The easiest, mess free way to do this is to paint the stickers while they are still on the sticker sheet. A lot of stickers might not take paint very well but since these are cardstock stickers they have a slight texture to them and hold the paint very well. I also added a coat of Shimmerz over the top to give them a subtle sparkle.
Variation #3
- Instead of using the three cirlces and the cardstock tab on the left as suggested on the sketch, I went with chipboard flowers and hand stitched stems.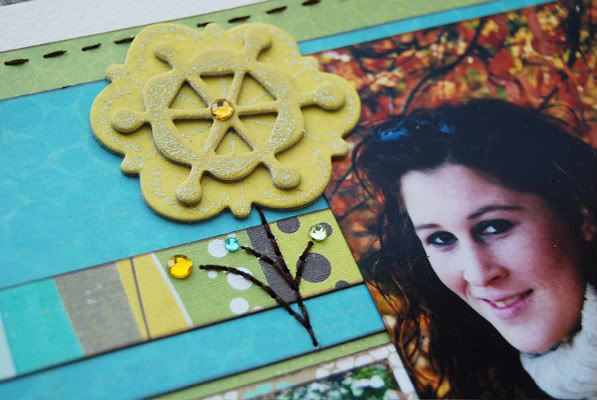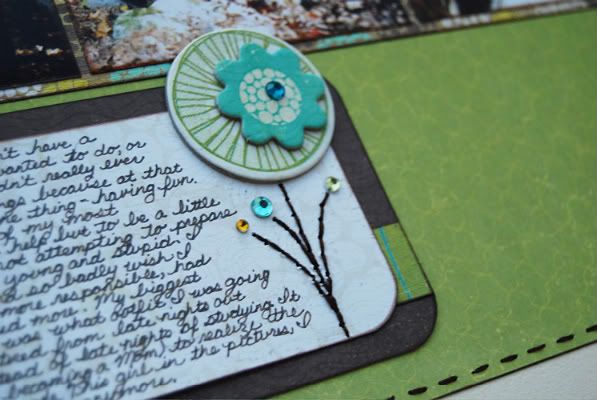 I duplicated the stems on the flowers from the flowers on one of the coordinating patterned papers. On two of them I topped off the ends with some jewels.
Another thing to note, I actually used my handwriting instead of my usual computer journaling. After a chat I did over at the Fisk-a-teer website and we had a discussion about handwriting vs. computer journaling, I decided that I really should get over my hate towards my handwriting and use it more. I'm challenging myself to use it whenever I can and only use my computer when I need to. I encourage you to do the same. Even after a short time and a few layouts later I'm already more comfortable with my handwriting on my layouts.
This time for the giveaway I'll have two different ones. One for a copy of
Sketches for Scrapbooking
and then another for the awesome prize package from
Nikki Sivils, Scrapbooker
. I'll be posting everyday, Monday - Friday. All week you'll have a chance to leave a comment and next Monday I'll post the winners. You can leave more than one comment through the week to be eligible (five days = five chances to win!) but not on the same day.
And one more thing, Scrapbook Generation is well on it's way to 2,000 fans on Facebook and we've got a new giveaway going IF we hit 2,000 fans by June 30 in celebration of our newest Sketches for Scrapbooking, Volume 6 (which is available July 1.) If we make it you could win an awesome goodie bag and a hot-off-the-press Sketches for Scrapbooking, Volume 6. Start spreading the word with your Facebook friends and if you aren't a fan yet, come on over and join us by
clicking here
. :)